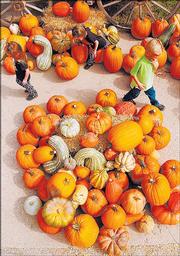 Catching a football game won't be the only reason to visit Lawrence this fall.
The Kaw Valley Agritourism Council is sponsoring "Finding the Flavors of Life," the Kaw Valley Farm Tour highlighting 15 local farms Oct. 1-2.
The council, comprised of 16 farmers, business owners and members of the Douglas County K-State Research and Extension, was formed last year. It has been meeting monthly to prepare for the tour, its first big event.
"Agritourism is kind of an awkward term, but I see it as we are trying to support agricultural endeavors that have a component to them that's a value-added component," said Nancy O'Connor, council member representing the Community Mercantile Co-op. "It's more than 'Come to my farm and watch me plant hay.' We're trying to blend agriculture when there are activities."
The farms were chosen based on educational and entertainment value, history and cultural diversity. Also, all the farms have to be safe, clean, have good personal and social skills and represent a positive image, said Karen Pendleton, council member and owner of Pendleton's Country Market.
The farms are located in four clusters with one hub, or central farm, with available concessions and restrooms. Each car that goes through the tour will be charged $10. Visitors can then go to as many or as few farms as they chose. Each farm has a different focus, ranging from sheep to apples to wine. Bill Wood, member of the council and the Douglas County K-State Research and Extension office, said he thought the event would be successful because of the amount of hands-on activities that would appeal to different groups of people.
KAW VALLEY FARM TOUR
Here's a list of farms that will participate in the Kaw Valley Farm Tour Oct. 1-2:
Prairie Elf Christmas Trees; Earth Flowers; Henry's Plant Farm; Fieldstone; Wakarusa Farm; Pendleton's Country Market; Davenport Orchard and Winery; Schaake's Pumpkin Patch; Zimmerman's Kill Creek Farm; Reese's Fruit Farm; Maggie's Farm; River Field Farm; Vinland Vallery Nursery; Kugler's VIneyard; Lawson Bros. Farm; Hamill's Country Greenhouse.
"We're trying to target everyone," O'Connor said. "There are so many people and so many families that are disconnected from the food system. There is also a huge potential for us in the Kansas City and Topeka communities. We're appealing to everyone from families, because it's a wonderful thing to do with children, to master gardeners who want to continue learning."
The farm tour was just one step in pursuing the council's larger goals.
"We want to build a base to support local farms and local food," Pendleton said. "We want to build a platform to change behavior, and to get new and more people to buy local and sustain these farms, while helping to connect the community with the many faces of agriculture."
In conjunction with the Kaw Valley Farm Tour, the council will also sponsor three food events: a kick-off picnic, "Dinner in the Country" and a Sunday brunch.
Copyright 2018 The Lawrence Journal-World. All rights reserved. This material may not be published, broadcast, rewritten or redistributed. We strive to uphold our values for every story published.