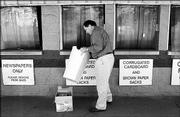 It's a dirty job, and nobody has to do it.
But this is exactly why Lawrence resident Ian Carrillo does.
With the green container in front of him now nearly three-quarters full of glass, plastic and aluminum, Carrillo digs deep into the sticky mess, separating the materials at the Wal-Mart recycling center not because he has to - but because he can.
A cook at Milton's, Carrillo recently placed the bin in the back room, telling his co-workers to put any and all recyclables inside. So far, he said, the results have been worth it.
"It's picked up a bit over the last month," Carrillo said. "I'm pretty happy about it."
Carrillo is one of many residents doing their part to recycle in the Lawrence community.
In fact, the Lawrence area has fared so well that it posted the highest recycling rate in the state last year with 34 percent of the waste generated being diverted from landfill, according to a study by the city's Solid Waste Division.
"You don't achieve the type of numbers we have in our community without people who want to do the right thing," said Mollie Mangerich, operations supervisor at Lawrence's Waste Reduction and Recycling Division. "I think we are very fortunate to have that sort of ethic within our community."
Mangerich and the city have put together new programs in recent years that continue to grow. The city now has 11 newspaper drop-off locations - the number has increased each of the last three years - and seven places where cardboard is taken.
DROP-OFF LOCATIONS
NEWSPAPERS
Checkers, 2300 La.
Dillons, Sixth Street and Wakarusa Drive
Hillcrest Shopping Center, Ninth Street and Centennial Drive
Hobby Lobby, 1801 W. 23rd St.
Hy-Vee Store, Clinton Parkway and Kasold Drive
Hy-Vee Store, Sixth Street and Monterey Way
North Lawrence, 740 N. Second St.
Prairie Park School, 2711 Kensington Road
Westlake Hardware, Sixth Street and Kasold Drive
Douglas County Bank, Ninth and Kentucky streets
Wal-Mart, 3300 Iowa
CORRUGATED CARDBOARD
Checker's, 2300 La.
Dillons, Sixth Street and Wakarusa Drive
Hobby Lobby, 1801 W. 23rd St.
Hy-Vee, Clinton Parkway and Kasold Drive
Hy-Vee, Sixth Street and Monterey Way
North Lawrence, 740 N. Second St.
Wal-Mart, 3300 Iowa
Source: Lawrence Waste Reduction and Recycling
In addition, the city continues its yard waste collection program, taking the material to its compost facility instead of the landfill. This program began after a study years ago showed that yard debris was the largest component of household waste.
"We have far surpassed our own thoughts of what we could provide and the results we could get," Mangerich said.
But the program has expanded to reach more than just residents. It has also started to help small businesses recycle.
Mangerich said the city provides more than 500 cardboard recycling boxes for small businesses, and that nearly 100 businesses were taking advantage of office paper waste containers regularly collected by the city.
Jeff Joseph, owner of Jeff's Curbside Recycling, said business recycling was where he had seen the most growth.
"It's not the mindset where we can only recycle in the home, but a mindset that we can recycle on other places as well," Joseph said. "Household recycling carries over to the office."
Joseph himself has been able to make his business a success because of the popularity of recycling in Lawrence. As one of three curbside recycling services in the city, Joseph said the demand for his work has increased so much that he had to buy a larger vehicle.
Four years ago, Joseph started his own collection service. Even with limited advertising - magnets on his vehicle and paper fliers - he continues to remain busy with his current customers and their referrals.
"This supports me doing the right thing," Joseph said, "and supports families who don't have the time to recycle."
Joseph takes all the materials he collects to the Wal-Mart recycling center, a facility he says is a major reason for Lawrence's high recycling rate.
Even with Lawrence's progress in recycling, there are still areas for improvement.
While recycling was one of Lawrence's strengths, Mangerich said people often forget about also reusing and reducing their wastes.
"The realities of the math are that people still are not reducing on their consumption of goods and services," Mangerich said. "Our waste generation per person still increases from year to year."
Joseph said he was hopeful more could be done to get kids involved in the recycling effort.
"I'd love to get all schools recycling, whether I'm involved or not," Joseph said. "It would teach children the value of recycling, and if you teach a child, you're helping for the future. If we became involved, it would definitely pay for itself and benefit those generations after us."
Others, such as Carrillo, believe a citywide curbside recycling program would encourage the practice.
"I think a lot of people recycle, and I think if it was more accessible more people would do it," Carrillo said.
In 2004, Lawrence found the cost of the pickup would be an extra $11.24 per month for households to begin a once-per-week curbside recycling program, nearly double the current residential trash bill of $11.48.
Mangerich said such a program would have to be passed by the Lawrence City Commission, which would likely give residents a vote on the issue because it would involve an increase in monthly bills.
"Citizens within the community would need to decide if they valued that service for that dollar amount," Mangerich said.
Copyright 2018 The Lawrence Journal-World. All rights reserved. This material may not be published, broadcast, rewritten or redistributed. We strive to uphold our values for every story published.