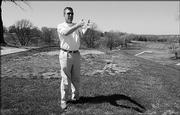 Lawrence Country Club's golf course, one of the oldest in Kansas, will undergo a massive renovation.
The nine-month, $3.2 million project will give the old dowager new fairways and greens, an expanded practice facility, more bunkers and a contemporary drainage system.
"We did a survey of our members," said David Johnson, president of the LCC board of directors, "and we found we rated higher than most country clubs in every area except the golf course, where we rated below."
LCC's links were built as a nine-hole layout in 1914 and expanded to 18 holes after World War II. The course is relatively small - only 6,500 yards - and is famed (and sometimes reviled) for its tight fairways and small greens.
"We'll be making many changes," said Brad Minnick, course superintendent the past seven years, "but I want to emphasize that the last thing I want is for the course to lose its character."
At the top of Minnick's wish list will be the construction of a 3.75-acre lake that will make irrigating the course faster and cheaper.
"We won't reduce our city water use completely," Minnick said. "But this will enable us to complete the watering when no one is on the course."
Long watering span
During dry spells, Minnick said it took 14 hours to water the entire course using city water, and, he noted, "We don't have that much time when people aren't using the course."
To the golfer, the most important change will be to the greens. They still will be small - mostly in the 5,000-square-foot range compared to the industry-standard 6,500-7,000 square feet - but the really small ones will be expanded.
Also, the putting surfaces will be seeded with A-4, a bentgrass used at such prestigious Kansas City-area country clubs as Shadow Glen and Hallbrook.
Moreover, the pitch of the greens will be improved.
"The puttability has been suspect," LCC pro Jon Zylstra said. "I've been here 13 or 14 years, and I wish I had recorded every complaint I've had about the greens. I've seen people walk off many times shaking their heads after five-putting."
Zylstra isn't likely to hear many complaints about the refitted greens - "They're going to love them" - or the decision to lower par from 72 to 70 even though the length of the course will remain unchanged.
Two par-5s disappear
Architects from CE Golf Design came up with a way to turn the par-5 No. 6 hole into a new, larger practice facility, merge the old practice facility to another par-5 hole and convert that area into a pair of par-4s. So instead of four par-5 holes, the new LCC will have just two - Nos. 3 and 12.
"All the other holes will change slightly," Minnick said. "For instance, on our signature par-3 No. 7, we'll move the tee box."
Other changes include the removal of some trees and the planting of others, seeding the fairways with G-6 bentgrass to replace the current rye-bentgrass mixture, repositioning cart paths for safety reasons and boosting the number of bunkers from 24 to 38.
In addition, the ancient dark sand in the traps will be replaced with a more contemporary filler that's lighter and has larger granules.
"We spent about three years studying this renovation project," Johnson said, "because we wanted to make sure we dealt with every aspect."
Final plan passed
The final plan went to a vote and passed handily.
"We found our membership wanted renovation," Johnson said, "and were willing to have an increase in dues to pay for it."
One sticking point involved course closure. Some members wanted half the course to remain open while the other nine holes were renovated. But that plan would have increased the cost, so they will close the entire course from July 5 to May 2, 2006.
The shutdown means Kim Richey, executive director of the Lawrence-based Kansas Golf Assn., will have to find a new home for the KGA Senior Match Play Tournament scheduled for September at LCC.
"I've already put out feelers, and I don't think I'll have any problem," Richey said.
Richey certainly has no problem with LCC's decision to upgrade.
"What you're seeing has been played out many times around the state over the last three or four years," he said. "The game has kind of outgrown many courses. In some cases, LCC has been almost too challenging because the greens lack pitch, and they're small."
Facelifts popular
Decades ago, many golf courses in central cities were relocated to the suburbs, and the old courses turned into housing developments. Now the trend is toward staying put and undergoing a facelift.
Lake Quivira in Kansas City has had a makeover. So has Hallbrook. And Alvamar Public across town has been closed for the last six months in order to replace the greens.
"I think what LCC is doing is a real testament to the loyalty and vision of their members," Richey said.
LCC currently has about 480 members, and a new golf course seems likely to boost that number.
"Once we reopen," LCC general manager Terry Schmidt said, "I think it will increase our membership."
Copyright 2018 The Lawrence Journal-World. All rights reserved. This material may not be published, broadcast, rewritten or redistributed. We strive to uphold our values for every story published.