Tom Amyx quit cutting hair for a living nearly seven years ago, but the memories he has of growing up and working in barbershops are as strong as ever.
"It was a good living. I never regretted it," Amyx, 71, said recently. "I always liked talking to people, and I always liked cutting hair."
The Amyx family tradition continued. In the 800 block of Massachusetts Street, two barbershops represent four generations and nearly a century of haircuts by members from the Lawrence family.
It began more than 80 years ago in a North Lawrence barbershop where Tom's dad, Cecil - only 14 at the time - joined his older brothers in the haircutting business.
Today Tom's sons, Mike Amyx, 51, and Jon Amyx, 49, run their own barbershops. They are just a few doors apart, with Mike's Amyx Barber Shop at 842 1/2 Mass. and Jon at Downtown Barber Shop, 824 Mass.,For the past six years, Jon has worked with his son, Jay Amyx, who represents the family's fourth generation of barbers. Mike and Jon said they never seriously considered doing anything else.
"I get the greatest stories around, listening to folks," Mike Amyx said.
Jon Amyx said he enjoyed life around the barbershop when he was a child.
"At about 10 years old I pretty well made up my mind I wanted to be a barber," Jon Amyx said.
Jay Amyx held a few odd jobs before he started cutting hair with his dad.
"Nobody really pushed me into it," Jay Amyx said. "It just seemed to be something I wanted to do. It seemed to work for the family."
In 1921, Cecil Amyx had only worked a few months with his brothers, Shouse and Burgess Amyx, when he went to a Kansas City barbering school. Cecil's brothers soon got out of the business, but he continued, working at various barbershops before setting up shop in 1942 at the same location where Mike now works.
As a boy, Tom Amyx remembers Saturday as being a big day at the barbershop. On Saturday the shop opened at 7 a.m. and remained open until midnight. There was a bathtub in a back room, and a bath was 50 cents, Tom said.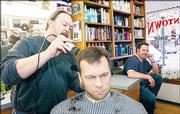 "There were a lot of farmers who came into town on Saturday and got a new set of clothes, got a haircut and then took a bath," Tom said.
At one time there also was another attraction besides haircuts and baths in his dad's barbershop, Tom Amyx said.
"On Saturday night they used to have cockfights in the back room," he said. "That was a big sport. The man who owned the shop at that time, that's what he did for a living. He said he made more money fighting chickens than he did anything else."
Many of the farmers used to barter for their haircuts, paying with chickens, eggs, beef and cream, Tom Amyx said.
"My dad used to say he'd work all day long and not get a penny, but he didn't go hungry," he said.
When Tom Amyx graduated from high school, he served in the Navy and worked a few years in a box factory before becoming a barber in 1957. He worked in barbershops at various locations, including on Massachusetts across the street from his father.
"My dad and I, we couldn't get along," Tom Amyx said. "He was too much of a perfectionist."
But there were plenty of customers to go around, Tom Amyx said.
"It was nice," he said. "We had our weekly customers. People would come in and get a haircut, a shave, shampoo, massage; we called it 'the works,' for about $5. Haircuts were a dollar."
In 1958, a fire heavily damaged Cecil Amyx's barbershop. The shop was rebuilt. He died in 1968, and Tom moved into his dad's old shop after his mother, Ethel, operated it for a couple of years. In 1975 Mike and Jon Amyx went through barber school and then began working with their dad. Father and sons said they worked well together.
"I always looked at it as a privilege," Mike Amyx said. "I got to work with my dad, and that's something very few people ever get to do."
Over the years a procession of Kansas University's top athletes and coaches have had haircuts from an Amyx. Among them were basketball coaches Phog Allen and Roy Williams, football coach Jack Mitchell and track stars Jim Ryun, Glenn Cunningham, Wes Santee and Billy Mills. Actor Michael Landon bought hair spray and shampoo at the barbershop.
Hairstyles have changed over the years, the Amyxes said. The late 1950s and early 1960s saw the flat-top and crewcuts as the popular hairstyles at the time, Tom Amyx said. The early 1970s saw many men wearing longer hair and getting fewer haircuts, he said. Many barbers went out of business.
"We've gone from long hair to a lot shorter hair, and I think now the trend is going back to medium-length hair," Mike Amyx said. "I've seen the whole gamut of hair styles."
Mike and Jon added services such as hairstyling and massage therapists. They sell shampoo and other hair-care related products. In 1987, Jon Amyx decided to start his own barbershop and now employs six barbers, including his son, Jay Amyx. Mike also has six barbers.
"You just kind of get to the stage where you're hard-headed and you decide you just want do something on your own," Jon Amyx said.
Jay Amyx, 26, is set to carry on the family's barbering tradition when the time comes for his dad and uncle to retire.
"I think that's pretty cool," he said. "I haven't heard of any other (barber) family tradition like this."
Copyright 2018 The Lawrence Journal-World. All rights reserved. This material may not be published, broadcast, rewritten or redistributed. We strive to uphold our values for every story published.