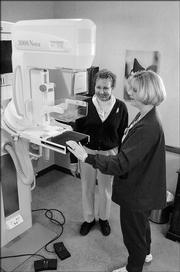 Gene Meyer, president and chief executive of Lawrence Memorial Hospital, knows it can be a hassle for patients to wind their way through the health care maze that exists at many hospitals.
Earlier this year LMH officials opened a new center to make the journey easier for area women who are receiving treatment or testing for breast cancer.
Officials opened the doors on the new $400,000 LMH Breast Center in January. The 1,800-square-foot center on the main floor of the hospital is designed to be a centralized location to coordinate the various tests and treatments breast cancer patients receive at the hospital.
"It is kind of a coordination of care issue," Meyer said. "Let's face it, health care is terribly complex, and the easier we can make it on our patients, the better."
Before the center opened, women who had mammograms at the hospital were served through LMH's radiology department. Sheryle D'Amico, LMH's director of oncology, said the new center would allow patients to deal with staff members who specialize in mammograms and early detection of breast cancer.
D'Amico said she hoped the new center also would help ease some of the fears women have about receiving a mammogram.
"We wanted to create an environment that is relaxed and comfortable for patients," D'Amico said.
The center has six full-time staff members, including a clinical coordinator who will help physicians and patients schedule appointments and navigate women through each step of the process to ease their anxieties.
"We thought it was important to have someone who will serve as your guide or your advocate," said Janice Early-Weas, director of community relations for the hospital. "It will put all the information you need in one spot."
The center will feature a new mammogram machine and a new computer-aided detection device, which is a computer that examines mammogram films for warning signs that may go undetected by the human eye.
The new equipment is expected to speed up the scheduling of tests, D'Amico said.
"That's important because if you're a women who needs a diagnostic test, you want to have it done right now, not in a day or two."
Meyer said a major part of the center's function is to educate area women on the importance of regularly receiving breast exams. LMH officials estimate that only 30 percent of women who should regularly have a breast exam are doing so at the hospital.
"The professionals tell me that this is an area where early detection is key to survival and minimization of the disease," he said. "We think this center creates a real statement about how important we believe education is." The center has coordinator position who spends much of her time getting out in the community and talking about the importance of early detection.
"Basically, we're saying that we'll speak about this subject at the drop of a hat," D'Amico said.
Meyer said the center also tied in well with other improvements the hospital has been making. Meyer said the hospital has been consistently building its oncology department. The department currently has three doctors, but Meyer said it was actively recruiting for a fourth doctor to add more services to the department.
Copyright 2018 The Lawrence Journal-World. All rights reserved. This material may not be published, broadcast, rewritten or redistributed. We strive to uphold our values for every story published.