For the second straight game, Kansas University's baseball team opted to take the field in the first inning as a team instead of individually.
For the second straight game, the Jayhawks provided a spirited effort that pleased head coach Ritch Price.
And, for the second straight game, it simply just wasn't enough.
KU (24-19 overall) fell, 11-9, Wednesday night to Wichita State at Hoglund Ballpark.
The two teams combined for 24 hits and 17 walks.
"Any midweek game, everyone knows you're going to have to score a lot of runs," KU outfielder A.J. Van Slyke said. "You don't have the weekend starters going usually, and we came out early and scored some runs, so that was good, but we knew that five wasn't going to be enough."
But KU did have a weekend starter throwing. And the five runs Kansas posted in the first three innings weren't enough by a long shot.
Left-hander Mike Zagurski, normally Kansas' Friday starter, lasted just three innings before handing the ball to Tyson Corley. But Corley was just the first of six relievers to head to the hill for the Jayhawks.
"I really thought Zagurski would give us five good innings, and he'd set it up to get to (Sean) Land or (Clint) Schambach, and then we'd go to (Don) Czyz late, but obviously he wasn't as good as he normally is," Price said.
The Jayhawks built the early lead thanks in large part to a two-run home run over the left-field wall by Van Slyke, but the Shockers overcame the early setback in the fifth inning.
After a lead-off single, third baseman Brian Spear shot a deep fly ball into center field, but a sprinting Matt Baty made an outstanding diving grab to prevent the early damage. After that, though, two base hits and three walks gave Wichita State a 7-5 lead and all the momentum.
In the bottom half of the inning, KU junior Gus Milner, who has torn Shocker pitching apart this season, followed Van Slyke's lead-off walk by taking a fastball deep into the night over the tarp above the center-field wall. Milner's team-leading eighth longball of the season tied the game at 7, but KU's bullpen could not find the consistency to match its hot bats.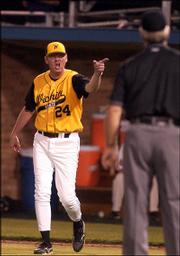 The WSU 'pen got a wake-up call just minutes later, after reliever Max Hutson plunked KU second baseman Ryne Price in the back. The drilling caused Shocker pitching coach Brent Kemnitz to storm onto the field, and after a heated argument with third-base umpire Randy Wetzel, he let Hutson have it orally, as well.
Following Kemnitz's blowup, the Shockers allowed only two more runs off of three hits.
The Jayhawks now have found the offense that was anemic last weekend against Baylor, but now the pitching has to recover for an important trip to face Texas Tech this weekend.
"I think the effort was good, and I think that's the most important thing for us," Price said. "If we continue to play through the adversity with that kind of effort, I think we'll be fine. We just need to get back on track, and I think emotionally and psychologically, we're at that point where we need to get rewarded for how hard we've worked and how hard we've played."
Copyright 2018 The Lawrence Journal-World. All rights reserved. This material may not be published, broadcast, rewritten or redistributed. We strive to uphold our values for every story published.