"What's that?" I asked my wife, as she opened the blue rectangular box.
"I got a new bathroom scale," she said. "It measures weight and body fat."
"Body fat?"
A feeling of dread came over me. I stopped munching and sat up in the recliner.
"Do we have any AA batteries?" she asked.
I told her I would find some later. I leaned back and went back to munching peanuts and watching "American Chopper."
During a commercial, I found some batteries and popped them into her new scale. Then I thumbed through the product manual, curious about the new digital scale and its body fat calculator.
Handle the truth
I've noticed as I get older, the pounds have seemed to creep up on me.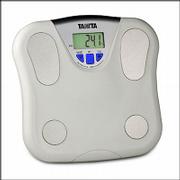 Fortunately, the old analog spring-style scale in my bathroom has been somewhat forgiving. If I bounce on it just right, it gives me a more pleasant reading. And the plastic window has fogged up a bit with time, which creates a bit of a fudge factor.
But this new Tanita scale my wife brought home has a crystal-clear LED readout. It goes down to increments of two-tenths of a pound. That means no more warm and fuzzy readings, just cold digital truth.
Adding to the morning misery, there's the harsh body fat indicator. I had some questions: How does it work? How accurate is it? And how much fat is OK?
More important
I called Jan Schmidt, an exercise physiologist and director of the Kirmayer Fitness Center at the Kansas University Medical Center in Kansas City, Kan.
I had to know: Is knowing your body fat as important as keeping track of your weight?
"I would actually say it's more important," Schmidt told me.
For example, someone might start an exercise program to lose weight. But after three to four weeks they often hit a plateau. Disappointment sets in.
"But then I'll ask them if they've lost inches and, most of the time, it turns out they have," Schmidt said. "And what's happened is they've lost fat but they've replaced it with muscle. And the thing with that is the muscle takes up less space, so you still get smaller."
How it works
I asked her how standing on a scale measures body fat.
"The science behind it has been out for about 20 years," Schmidt said. "It's based on something called bio-electrical impedance. And basically what they're doing is running a real weak current through your body. You don't even feel it."
You enter your height, age and gender into the computer. Then you stand barefoot on electrode sensor pads.
The more water-containing tissues that you have, the better the current is conducted. Fatty tissue impedes the current.
"They measure how much the current -- the flow of the electricity -- is impeded," Schmidt said.
The computer uses a formula based on height, weight and gender to calculate your body fat.
The Tanita scale said women under 30 should be between 17 and 24 percent and women older than 30 should be between 20 and 27 percent.
Men under 30 should have body fat readings between 14 and 20 percent. And those older than 30 should be between 17 and 23 percent.
Water causes variability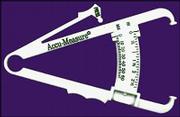 How accurate is bio-electrical impedance?
"I would say it's a good comparison tool, week to week, as far as body fat changes -- assuming that every time you get on there and look at your body fat you try to duplicate the conditions as closely as possible," she said.
The biggest factor that can affect change is your body's water.
For example, if you were out working in the garden all day on Saturday and became dehydrated, then weighed yourself on a Sunday morning, you might see a big change, she said.
"Or, if you're retaining water for some reason, that's going to throw it off, too," she said.
You can usually attribute wild swings in body fat to fluctuations in your body hydration, she said.
Other body fat measurers
Actually Schmidt prefers using something a little more low-tech to measure body fat -- skin fold calipers. At the fitness center, she uses the calipers to pinch certain places on the body and measure the thickness of the skin folds.
"And that's a fairly accurate method if it's done by someone who is qualified to do it and has had a lot of practice," she said.
The "gold standard" is underwater weighing, which takes a lot of specialized equipment, she said.
"But not everybody wants to be dunked in a tank and breathe through a tube for 10 minutes underwater," she said.
When she needs to measure large groups of people at once for body fat, such as 120 first-year nursing students, her fitness center puts away the skin fold calipers and borrows a body fat monitor using bio-electrical impedance from the KU School of Nursing.
"I don't think there's any harm in them if you are informed what they can and can't do," she said.
Lots of models
I found more than 375 different body fat monitors online, ranging in price from around $35 to $500, depending on features. Schmidt said the brands she was most familiar with were Tanita and Omron.
Tanita has been selling its weight/body fat monitors for at least a decade to nutrition departments, nursing schools and other institutions before more recently marketing them to the public, she said.
Scaling back
One of the reasons my wife got the new weight/body fat scale was because she and my daughters were all on the South Beach Diet. I had been swept along in the tide and had been eating healthy and dropping pounds.
So I was surprised to get the phone call.
"Dave, I'm at the Merc," my wife said, laughing. "The pies are in. Do you want one?"
I thought quickly, weighing my options.
I'd already dropped a few pounds. And I was hoping to be in the "reasonable" range in terms of body fat sometime soon.
"They have cherry," my wife's voice said over the phone.
I cracked.
All I could see in my head was a thick piece of cherry pie. With ice cream . . .
"Just make sure it's not rhubarb."
As I hung up, I wondered what it would do with my body fat reading. That gave me an idea.
I went to www.cheatcc.com.
Unfortunately, all they had were ways to beat video games. They had nothing on body fat monitors -- not a single cherry pie cheat code.
Copyright 2018 The Lawrence Journal-World. All rights reserved. This material may not be published, broadcast, rewritten or redistributed. We strive to uphold our values for every story published.