Minneapolis — Johan Santana walked into his manager's office a half hour before his scheduled start.
"He came in and he says, 'My wife had a baby,"' Twins manager Ron Gardenhire said. "I said, 'What the heck are you doing here?' And he says, 'She told me to go pitch."'
Santana did just that, striking out 10 over seven innings before leaving with the game tied. Shannon Stewart drove in the go-ahead run with a single in the eighth, leading the Twins to a 5-4 victory over the Kansas City Royals on Wednesday night.
Stewart's hit helped Santana extend his major-league-best streak of consecutive starts without a loss to 19, dating to July 17.
Santana's wife was scheduled to be induced this morning, but went into labor Wednesday without her husband's knowledge. Santana found out just before he went to the field for his pregame warmup.
The baby, a girl, is the second child for the couple.
"He handled it very well," said Gardenhire, who told Santana to leave the stadium to be with his family after he was pulled from the game. "You'd probably expect him to be a little bit lifted (by the news)."
With one out in the eighth, Lew Ford had an infield hit off reliever Jaime Cerda (1-2) and advanced to second on third baseman Joe McEwing's throwing error. Terry Tiffee was intentionally walked, and both runners moved up on a wild pitch. Michael Cuddyer was intentionally walked to load the bases.
Stewart then hit his RBI grounder to left field, helping the Twins end a three-game losing streak.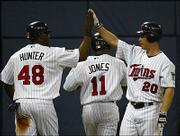 Juan Rincon (2-0) earned the victory with one inning of relief, and Joe Nathan pitched the ninth for his fifth save.
Tiffee hit a sacrifice fly in the sixth to tie it at 4 and help preserve Santana's 16-game winning streak, which is tied for second-best in American League history.
Santana did not walk a batter. He breezed through the first eight batters before allowing consecutive singles to McEwing, David DeJesus and Tony Graffanino in the third to make it 3-1 Minnesota.
Mike Sweeney followed with a three-run homer to left to give Kansas City a 4-3 lead and hush the Metrodome crowd.
"(Santana) doesn't make many mistakes, so when he does make one ... you have to capitalize on it," Sweeney said. "To get four runs was huge. Unfortunately, four wasn't enough."
The Twins jumped out to a 3-0 lead on Joe Mauer's solo homer in the first and Jacque Jones' two-run shot in the second, both off Jose Lima.
Lima allowed four runs over 5 1/3 innings, walking three and striking out two.
Lima pitched out of a jam in the fourth inning. After loading the bases on two singles and a walk with none out, Ford popped out and Tiffee hit into an inning-ending double play.
The Twins loaded the bases again with two outs in the sixth, chasing Lima.
Shawn Camp relieved and gave up Tiffee's sacrifice fly to center to make it 4-all.
Notes: Jones has at least one hit in 12 of his 13 games this season. ... Minnesota's clutch hitting struggles may have come to an end Wednesday. Tiffee's bases-loaded sacrifice fly in the sixth inning Wednesday ended the Twins' 0-for-6 streak with the bases full, and Stewart's RBI single in the eighth also game with the bases loaded. ... Lima has allowed at least three runs in the first four innings of each of his four starts this season.
Copyright 2018 The Associated Press. All rights reserved. This material may not be published, broadcast, rewritten or redistributed. We strive to uphold our values for every story published.