Vatican City — Charting a papacy in the tradition of his predecessor, Pope Benedict XVI pledged Wednesday to work for unity among Christians and to seek "an open and sincere dialogue" with other faiths.
In his first Mass as pontiff, Benedict invoked the words of John Paul II -- "Be not afraid" -- a message designed to show he is intent on following the groundbreaking path of the late pope.
The German-born pontiff also stressed he would draw on the work of the Second Vatican Council, the 1962-65 meeting that modernized the church, an issue important to liberals who are wary of Benedict from his time as Roman Catholicism's doctrinal enforcer.
As the world's 1.1 billion Catholics got the first hints of where the papacy is headed, followers of other religions weighed its meaning for interfaith relations. By and large, reactions were hopeful and expectant.
"I think he has been very open, so I have no worries about the ecumenical route," said British Cardinal Cormac Murphy-O'Connor. "It will continue. No doubt at all."
Benedict, the former Cardinal Joseph Ratzinger, said his primary task would be to try to reunify all Christians and stressed that sentiment alone was not enough. "Concrete acts that enter souls and move consciences are needed," he said.
The 78-year-old pontiff said he wanted to continue "an open and sincere dialogue" with other religions and would do everything in his power to improve the ecumenical cause.
But Benedict has been one of the most forceful Vatican voices for Catholic missionary work and other forms of evangelization. He was the intellectual drive behind the 2000 document "Dominus Iesus," which outlined the Catholic Church as an exclusive road to salvation and angered Protestants, Jews, Muslims and other non-Christians.
In Israel, admiration for John Paul's tireless efforts to promote Jewish-Catholic reconciliation mixed with unease about Benedict's time in the Hitler Youth as a teenager.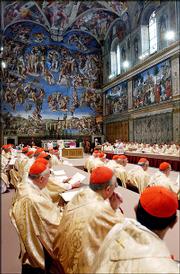 Benedict has written about his service, which was compulsory under the Nazi regime. He also was drafted into a German anti-aircraft unit at the end of World War II, though he says he never fired a shot.
John Paul won many Israeli hearts during a trip to the Holy Land in 2000 by apologizing for Roman Catholic wrongdoing over the centuries. He also was praised for promoting interfaith dialogue, establishing diplomatic relations with Israel and aiding Polish Jews during the Nazi era.
"Israel can certainly coexist with him," Oded Ben-Hor, Israel's ambassador to the Vatican, said of the new pope. "But the real test will come over the course of time."
Benedict inherits sometimes testy relations with the Russian Orthodox Church, which has accused Catholics of poaching Orthodox believers. John Paul, the first Slavic pope, saw a visit to Russia as a way to promote greater Christian unity a millennium after the east-west schism, but he was not able to arrange the trip.
"We very much hope that under the new pope those problems will be solved," said Igor Vyzhanov, an Orthodox church spokesman.
But Russian religion expert Alexander Ogorodnikov questioned whether Benedict will match John Paul's zeal for closer ties. As a cardinal, Ratzinger soured relations with the Russian Patriarchate by backing a move to stop referring to the Orthodox branch of Christianity as a "sister church" -- since Roman Catholics see Rome as the "mother" church.
"There may even be a certain cooling of relations," Ogorodnikov said.
Copyright 2018 The Associated Press. All rights reserved. This material may not be published, broadcast, rewritten or redistributed. We strive to uphold our values for every story published.