Fourth-team Parade All-American Dwight Lewis is known for his ability to put the ball in the basket.
That knack, which resulted in 27.5 points per game this past season at Archbishop Rummel High in Metairie, La., should serve the 6-foot-6, 190-pounder well during his career at Kansas University.
"Dwight is a real scorer who can get to the rim," said Rummel High coach Steve Alfonso, who has used Lewis at point guard, shooting guard and forward. "He's got a great midrange jump shot, which is rare these days because of the three-point shot.
"He has the ability to bring it up the court anytime. He is strong, can shoot the three, can dribble the ball and can pull up and score. He also has the ability to defend the perimeter," Alfonso added, noting, "he will be a defensive stopper in college. I see him as a shooting guard/scorer in college."
Lewis, who Tuesday orally committed to KU over Oklahoma, LSU, USC, Baylor, Texas A&M; and others, had a huge upside, Alfonso said.
"I think his best basketball is ahead of him," the coach said of Lewis, who averaged 9.7 rebounds and 4.5 assists per game for 26-12 Rummel.
Lewis, who earned first-team all-state honors by the New Orleans Times-Picayune, is ranked No. 84 nationally by rivals.com.
That ranking figures to improve during the summer and during Lewis' senior year of high school.
"Dwight is a very underrated guy, an explosive scorer," said Shay Wildeboor, recruiting analyst for rivals.com. "The reason he is rated so high is he's had mono this past month and not been able to play (in AAU tournaments).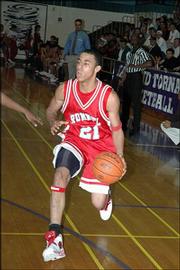 "He's listed as a small forward/shooting guard, but is more in the mode of a shooting guard. He has a good handle with the ball, is a tenacious defender on the perimeter, listed 6-6, 195 and still growing.
"Obviously, to put up 27.5 points a game at Archbishop Rummel shows what he can do. He is going to come in and have an immediate impact right away."
Of Lewis, rivals.com analyst Jerry Meyer noted: "He is a very good penetrator going either direction. He specializes in pulling up in the midrange area."
Lewis is the second player in two years to commit to KU without making an official visit. The other was Julian Wright, 6-9 from Homewood-Flossmoor High in Chicago.
"It is rare for that to happen, but what people need to realize is a lot of it has to do with coach (Bill) Self and his assistants selling a program with a long history of tradition," Wildeboor said. "The coaches at Kansas build relationships. Coach Self is a great recruiter. He makes everybody around him feel important."
Lewis' coach said Self was impressive in recruiting.
"Dwight told me that he wanted to end his recruitment so he could put all of his focus into our basketball team and program," Alfonso said. "Also, coach Self did a great job recruiting Dwight. It was just the best fit for him, and coach Self did a great job with his presentation."
KU has two remaining scholarships to give in the class of 2006. Self has said he wants a wing player, big man and the next best available athlete.
Copyright 2018 The Lawrence Journal-World. All rights reserved. This material may not be published, broadcast, rewritten or redistributed. We strive to uphold our values for every story published.