New York — Stocks resumed their slide Wednesday as concerns about rising inflation trumped a slew of upbeat quarterly reports, including better-than-expected results from Caterpillar Inc. and Intel Corp. The Dow Jones industrial average lost more than 115 points, settling just a whisper above the 10,000 mark, a six-month low.
With 1,200 companies releasing earnings this week, investors have plenty of corporate news to sift through, but the economy remains in the spotlight. Stocks sank after the release of the Federal Reserve's "Beige Book" survey, which reported expansion of business activity from late February to early April, but "uneven progress" in some parts of the country, and higher inflation. Analysts said the day's trading underscores the level of fear on Wall Street following last week's massive sell-off.
"The action last week was pretty destructive to the technical health of the market. That's not to say we're doomed to a larger correction, but I think the damage done last week is not easily undone," said Brian Pears, head equity trader at Victory Capital Management in Cleveland. "There's been good earnings news ... but it seems to me good news is not having as big an effect on stock prices as bad news is having."
The Dow closed down 115.05, or 1.14 percent, at 10,012.36, having suffered three straight triple-digit drops last week. It was the Dow's lowest close since Oct. 28; the index of 30 actively traded industrial stocks last closed below 10,000 on Oct. 26. The Dow is now down 7.15 percent for the year.
The Standard & Poor's 500 index also skidded to a fresh six-month low, dropping 15.28, or 1.33 percent, to 1,137.50, its worst close since Nov. 2. The day's trading brought the S&P;'s 2005 loss for the index to 6.14 percent.
The Nasdaq composite index lost 18.60, or 0.96 percent, to 1,913.76, the only major index to remain in positive territory for the week.
Treasury prices were little changed, with the yield on the 10-year note falling slightly to 4.20 percent, from 4.21 percent late Tuesday. The dollar extended its decline against the euro and the Japanese yen; gold prices rose. Oil futures were volatile, climbing 15 cents to settle at $52.44 on the New York Mercantile Exchange, after the government's weekly fuel inventory report showed a decline in crude and gasoline stores; analysts had expected a build for both.
The Fed report, which is based on a survey of its 12 regional banks, found rising prices for energy and other commodities are a significant concern across sectors. Retailers and tourism companies in many regions expressed worry that high energy prices were already dampening business prospects or might soon. Known for the color of its cover, the Beige Book will be used when Fed policy-makers next meet to set interest rates on May 3.
Inflationary pressures also were highlighted by the Labor Department's latest reading of the Consumer Price Index, the most closely watched inflation gauge. Consumer prices jumped 0.6 percent in March, the biggest surge in five months as costs rose sharply for everything from energy and food to clothing, hotel rooms, airline tickets and medical care.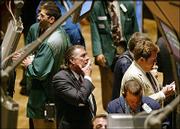 Pricing pressures were significant, even excluding the volatile costs of food and energy. The so-called core rate of inflation rose by a worrisome 0.4 percent, the largest jump in 2 1/2 years and double what economists had expected. Still, some analysts said concerns about inflation were overblown.
"Any concern about the CPI, and how it's going to affect the market because of a more aggressive Federal Reserve, are overstated," said Arthur Hogan, chief market analyst at Jefferies & Co. in Boston. "The real focus should be corporate America and earnings and guidance, and that has been better than expected. The fact is, some household names are giving us great news on the earnings front."
Caterpillar surged 3.6 percent, or $3.09, to $88.04, after reporting a 38 percent rise in first-quarter profits on strong sales of its heavy machinery and engines, bounding past estimates from analysts surveyed by Thomson Financial. The company also boosted its revenue and profit expectations for the year.
Intel added 3 cents to $22.66 after the chip maker reported robust profits and sales thanks to the continued popularity of notebook computers and their relatively pricier microprocessors. The results easily beat Wall Street estimates, and Intel said its growth is expected to continue in the current quarter.
Yahoo Inc. gained 4.3 percent, or $1.43, to $34.65, after the search powerhouse doubled its first-quarter profits on a rising tide of online advertising. Per-share earnings beat expectations by 3 cents. Yahoo's growth reflects the increasing amount of time consumers are spending online, curtailing their exposure to television, radio, newspapers and magazines.
Juniper Networks Inc. soared 6.4 percent, or $1.37, to $22.63, after the network router producer's first-quarter revenues doubled, driving earnings sharply higher, beating expectations.
Embattled carrier US Airways Group Inc. announced it is in advanced discussions to merge with America West Holdings Corp., a combination that would create a national low-cost airline to better compete with discount rivals. America West was down 31 cents at $4.50 on the news. US Airways, which is planning to emerge from bankruptcy-court protection later this year, was up 14 cents at 78 cents per share on the over-the-counter Bulletin Board.
The Russell 2000 index, which tracks smaller company stocks, was down 9.98, or 1.68 percent, at 584.96.
Decliners outnumbered advancing issues by 3 to 1 on the New York Stock Exchange. Preliminary consolidated volume came to 2.22 billion shares, compared with 2.15 billion traded Tuesday.
Copyright 2018 The Associated Press. All rights reserved. This material may not be published, broadcast, rewritten or redistributed. We strive to uphold our values for every story published.