Nobody remembers who comes in second -- unless you are a loyal Kasey Kahne fan.
The NASCAR Nextel Cup driver of the No. 9 Dodge is like the mountain climber who gets within 200 yards of the summit of Mount Everest, but from out of nowhere a storm begins to brew that forces him to turn around -- again.
Six times in his young Cup career, Kahne has taken the white flag with a chance to win. Six times, when the final lap was over and the winner in Victory Lane, Kahne was on pit road talking about another oh-so-close runner-up finish.
On April 10, on his 25th birthday, Kahne posted his latest bridesmaid finish, at the short track in Martinsville, Va. He passed 33 cars, most by "driving his butt off," according to team owner Ray Evernham.
But Kahne couldn't quite pass the 34th car driven by Martinsville master Jeff Gordon.
Gordon's triumph brought tears to team owner Rick Hendrick, who is still healing from the deaths of 10 people, including four family members, who died when the team plane crashed en route to the Martinsville race in October.
Kahne mostly was frustrated after his first five runner-up finishes. But that Sunday, Kahne called his second "not a bad gift."
Still, the Martinsville finish has not erased the mounting pressure to win.
On the contrary, the near-miss has revved up the talk: "Hey, Kasey, when are you going to win?"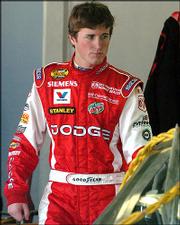 There always seems to be more pressure on the driver who is perennially knocking on Victory Lane's door than on those who finish regularly in the middle of the pack.
Had Kahne won at Martinsville, in his 42nd career Cup start, it would have put him in good company. Gordon also won his first Cup race in his 42nd start -- at the 1994 Coca-Cola 600 in Concord, N.C.
Gordon has made winning look easy ever since, racking up 71 victories -- best among active drivers. He's seventh on the all-time list, closing in on the late Dale Earnhardt Sr.'s 76 mark.
But winning is difficult.
Ask Jamie McMurray. He won in only his second Cup start, while filling in for injured Sterling Marlin. He hasn't won since, in 82 starts.
So many things have to go right that are out of the driver's hands. But in this day and age in NASCAR, teams and sponsors expect drivers to win now.
Carl Edwards is in his first full-time Cup season, yet he was enormously "relieved" to get his first victory out of the way. He edged Jimmie Johnson to win the fourth race of the season at Atlanta, in his 17th Cup start.
"I think it took a lot of pressure off because the big picture is we got a win for [his sponsor] Scott's and for Ford and for the 99 team," Edwards said after the victory.
"That helps us with marketing, helps us to secure partners for the next two or three years and allows us to build a team that can go out and win championships."
Maybe Kahne's first Cup win will come this week. Maybe when he leaves he will be able to exhale.
"A win," he said, "is bigger for our team, I think, than anybody really knows."
Copyright 2018 The Lawrence Journal-World. All rights reserved. This material may not be published, broadcast, rewritten or redistributed. We strive to uphold our values for every story published.