DETROIT — Jermaine Dye chilled out after pressuring himself into an early slump with the Chicago White Sox, who signed him to replace Magglio Ordonez.
Dye hit a two-run homer and a two-run single to back Jon Garland in Chicago's 9-1 victory over the Detroit Tigers on Wednesday night.
"Any player that comes to a new team is going to try to get off to a good start," said Dye, who entered the game hitting .178 with two homers and three RBIs. "But I'm relaxed now, and I'm just going have fun."
Joe Crede hit a three-run homer for the AL Central-leading White Sox (11-4). They have won three straight to match the best 15-game start in team history -- also reached in 1981 and 1980 -- and are the first team in the league to win 11 games this year.
"These guys are playing well," Tigers manager Alan Trammell said. "They're in first place, but sitting here and looking at the division, Minnesota is still the team to beat."
When White Sox manager Ozzie Guillen heard the Twins had been withholding praise of his team until they get to the middle of the season, he shot back at the defending AL Central champions.
"They don't have the same team they had in the past," Guillen said. "I'll take my chances. I like this team."
Garland allowed one run and five hits in eight innings, improving to 3-0 for the first time. He has won three straight starts for the first time in three years.
"I feel good with every pitch coming out of my hand," he said.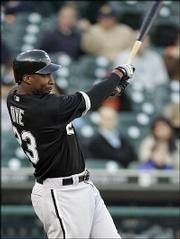 Wilfredo Ledezma (1-1) gave up six runs on eight hits. Since allowing only a run in his first start, Ledezma has given up 10 runs and 16 hits over 11 innings in his last two outings.
"Not to single anybody out, but we didn't play well," Trammell said when asked about Ledezma.
Instead of playing his former team for the first time, Ordonez traveled back to Detroit from Montreal after seeing a hernia specialist, who could not conclude that Ordonez had a hernia.
Ordonez said missing the game against the White Sox didn't added to his misery.
"I just want to play against anybody," Ordonez said in Detroit's clubhouse after the game.
Ordonez is scheduled to be examined by doctors today in Michigan and to visit another hernia specialist Monday in Philadelphia. He is 0-for-10 in three games after signing a $75 million, five-year contract.
Tigers president Dave Dombrowski said he could not estimate when Ordonez would return.
"It's very puzzling," Dombrowski said.
The White Sox gave Dye a $10 million, two-year deal, hoping he could produce some of the power Ordonez did as a right fielder before he was limited by knee problems last season.
Red Sox 8, Orioles 0
Baltimore -- David Wells allowed three hits in eight innings, and Boston got a three-run homer from Jason Varitek in a rout of Baltimore.
Wells (2-2) struck out five and walked one, coming within three outs of his first shutout in 63 starts since blanking Minnesota for the New York Yankees on April 10, 2003. The burly left-hander has rattled off 15 consecutive scoreless innings since losing his first two starts with Boston.
The only hits allowed by Wells were singles by Sammy Sosa in the second inning, Javy Lopez in the fifth and Luis Matos in the sixth. Blaine Neal worked the ninth, completing the three-hitter.
Baltimore's Brian Roberts went 0-for-3 with a walk, ending a 14-game hitting streak. It was also the first time in 10 games that the Orioles failed to hit a home run.
Yankees 11, Blue Jays 2
Toronto -- With the help of a big offensive performance, Carl Pavano gained his first win with New York. Pavano scattered seven hits over eight innings, and Jorge Posada hit a three-run homer to lead the Yankees over Toronto in the opener of a two-game series.
New York entered with five losses in six games, tied with Tampa Bay for last in the AL East at 5-9. But for the second time in three games, the Yankees took a big early lead, going ahead 7-1 in the fourth inning.
Mariners 7, Athletics 6
Seattle -- Greg Dobbs drove in three runs with a pinch-hit double off rookie Huston Street in the seventh inning, leading Seattle over Oakland.
The Mariners loaded the bases off Street (1-1) on singles by Adrian Beltre, Raul Ibanez and pinch-hitter Jeremy Reed. With two outs, Dobbs, batting for Miguel Olivo, hit a sinking liner that diving left fielder Eric Byrnes couldn't catch. The ball rolled past him, and all three runners scored to give the Mariners a 7-4 lead.
Angels 2, Indians 0
Anaheim, Calif. -- Bartolo Colon pitched four-hit ball over eight innings, and Chone Figgins homered to lead Los Angeles over Cleveland. Colon (3-1) threw 115 pitches, striking out six and walking two before Francisco Rodriguez pitched a perfect ninth for his third save. Colon, who allowed 68 home runs during the past two seasons, has given up only one homer in 272/3 innings through his first four starts.
Rangers 12, Devil Rays 10
St. Petersburg, Fla. -- Rod Barajas hit his first career grand slam, Kevin Mench had a bases-loaded triple, and Texas nearly blew an eight-run lead in a victory over Tampa Bay.
Barajas was mired in a 1-for-14 slide before putting the Rangers up 6-1 with a homer on the first pitch off John Webb during a five-run fourth inning.
Copyright 2017 The Associated Press. All rights reserved. This material may not be published, broadcast, rewritten or redistributed. We strive to uphold our values for every story published.