Take a stroll past the Raven Bookstore, 6 E. Seventh St., and you'll find more than reading material in the window display.
You'll also find red, lacy lingerie.
Look closer, and you'll see a message scrawled on the underwear: "Red Panties are Not Synonymous with Askin' for It."
"The discomfort people feel when they walk by and see underwear gives them a glimpse of maybe the discomfort that someone who's been sexually assaulted may have as well," said Tracy Williams, Sexual Assault Coordinator of Ga Du Gi SafeCenter, formerly known as the Rape Victim-Survivor Service.
The display of lingerie is part of the Panty Line Project, organized by Williams in recognition of April being Sexual Assault Awareness month.
The project aims to inform the public about the prevalence of sexual assault in the community.
At The Raven, three pieces of thick blue ribbon hold up about a dozen pieces of women's undergarments. Most are pairs of panties, painted with messages like: "This is Mine" and "By Invitation Only."
Williams said survivors of sexual assault wrote the messages on the lingerie as part of the healing process.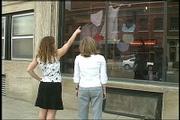 "It gives them the opportunity to let their voices be heard," Williams said. "It makes it real."
Panty Line Project displays are also at Hobbs Inc., 700 Mass., and The Third Planet, 2 E. Ninth St.
"We get all sorts of random requests from people who want to use the store," said Hobbs employee Chelsea Schlievert. "Usually, it's for stuff like college kids who want to shoot a movie in here. I had to really explain (to the owner) why we wanted to put panties in the window, but eventually he was OK with it."
The displays at all three locations will remain up until April 29.
"You certainly don't expect to see lingerie in the window of a bookstore," Maggie Little said after stopping to stare at the display at The Raven. "When you do, you kind of think it's risque but when you read what's written on there, it really makes you think twice."
And that's just the reaction Williams is hoping for.
"To get information out, a great strategy is to use in-your-face, shocking stats," she said. "Unfortunately, they're shocking but they're true."
Copyright 2018 The Lawrence Journal-World. All rights reserved. This material may not be published, broadcast, rewritten or redistributed. We strive to uphold our values for every story published.