Arlington, Va. — A school bus carrying children to an elementary school collided with a trash truck Monday, killing one child and injuring 14 others.
Lilibeth Gomez, 9, a third-grader, was killed in the head-on crash near a busy intersection, said Arlington Schools Supt. Robert Smith. Her younger sister, whose name was not released, also was on the bus but was not seriously injured, school officials said.
"Our hearts go out to the parents of the child who died," Smith said.
Two of the children remained hospitalized Monday afternoon at Children's Hospital. A boy, 7, was in critical condition, and a girl, 11, was in serious condition.
The other injured children were released to their parents after being treated for minor injuries at Virginia Hospital Center.
The bus driver, a 37-year-old woman, underwent surgery for nonlife-threatening injuries and remained hospitalized. Her name was not released. She had been driving for Arlington County since 1994 and had an unblemished record, Smith said.
Witnesses told police the driver was thrown from the vehicle, but still managed to get up and help the injured children, said Arlington County Police Chief Doug Scott.
The trash truck driver, who worked for AAA Recycling and Trash Removal Services, also was critically injured. His name was not released, but authorities said he was 42.
Arlington County Police, Virginia State Police and the National Transportation Safety Board were investigating the crash. Authorities did not say who was at fault.
Speed did not appear to be a factor, and there was no indication that either driver tried to stop, police said.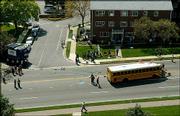 Copyright 2018 The Associated Press. All rights reserved. This material may not be published, broadcast, rewritten or redistributed. We strive to uphold our values for every story published.