New York — The New York Yankees answered George Steinbrenner with a record-setting blowout.
Alex Rodriguez, Tino Martinez and the Yankees broke out for 13 runs in the second inning Monday night on the way to a 19-8 rout of the Tampa Bay Devil Rays, ending a four-game skid.
One day after Steinbrenner lashed out at his $200 million team for its 4-8 start, the Yankees quickly showed just how powerful their offense can be.
"George challenged us, and the team responded really well," Rodriguez said. "We needed to stop the bleeding."
Rodriguez homered twice, doubled twice and finished with five hits. He drove in six runs and scored five times. Martinez hit a grand slam and knocked in six runs. Bernie Williams had three hits and Jason Giambi scored three runs, making a winner of Jaret Wright (2-1) despite his poor outing.
In a little more than three hours, the Yankees boosted their team batting average from .258 to .277.
"Maybe it'll relax us at the plate," Martinez said. "We needed a win -- period."
It all started in the second, New York's biggest inning ever at Yankee Stadium. The Yankees sent 17 batters to the plate during an incredible outburst that lasted 34 minutes. They rapped 11 hits, including seven in a row, and 10 consecutive hitters reached safely.
"It felt like it lasted for hours," Tampa Bay outfielder Carl Crawford said. "That was a tough inning. I just hope it doesn't happen again."
The last time the Yankees scored 13 runs in an inning was June 21, 1945, in the fifth inning of a 14-4 victory at Boston. The franchise record is 14 runs in the fifth inning on July 6, 1920, against the Senators in Washington.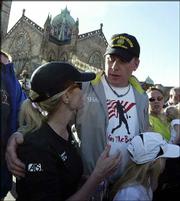 The last time New York got 11 hits in an inning was April 11, 1987, against Kansas City. And the Devil Rays set a team record for most runs allowed in an inning. Rodriguez added a two-run homer off Carter in the third.
Red Sox 12, Blue Jays 7
Boston -- Curt Schilling recorded his first win of the season with plenty of help -- and harm -- from Manny Ramirez.
Schilling labored through five innings in his return from ankle surgery last November and the Red Sox won their fifth straight game.
"There are things I need to work on and address and get right," Schilling said, "but I certainly felt better than I've shown. I'm never happy going five, but, again, it's a win."
It was a strange day at Fenway Park, from the 11:08 a.m. start for the Patriots Day holiday to a flyover by two jets marking the start of the Boston Marathon while Schilling was on the mound to the ejection of Toronto manager John Gibbons.
Then there were Ramirez's adventures in left field.
He hit two homers over the Green Monster to drive in five runs and lost two balls in the sun -- perhaps because he wasn't used to its position so early in the day -- for a double and a two-base error.
Toronto left fielder Frank Catalanatto also let a ball drop about 10 feet in front of him when he lost it in the sun for a double.
Schilling (1-1) barely made it through the fifth inning to qualify for the win with 118 pitches and a 9-3 lead.
He escaped two bases-loaded jams, one when he struck out Catalanatto to end the second inning moments after the flyover.
White Sox 5, Twins 4
Chicago -- Carl Everett homered twice, including a tiebreaking two-run drive in the sixth inning. Joe Crede also hit a two-run homer for Chicago, which overcame a 3-1 deficit.
With Minnesota ahead 3-1 in the fifth, A.J. Pierzynski singled and Crede followed with his first homer of the season.
Luis Vizcaino (2-1) pitched two scoreless innings for the win, getting Joe Mauer to ground into an inning-ending double play with the bases loaded in the sixth.
Athletics 8, Rangers 5
Arlington, Texas -- Dan Haren pitched six solid innings and cleanup hitter Erubiel Durazo snapped out of a season-long slump with his first extra-base hits.
Durazo went 3-for-4 with two doubles and an RBI. He came in hitting .154 with no extra-base hits in 39 at-bats -- a streak extended with a single in the first.
The Athletics had a season-high 13 hits, eight in the first 4 innings off Chan Ho Park (1-1). Mark Kotsay drove in three runs for the A's with a two-run single and a sacrifice fly.
Tigers 13, Orioles 3
Baltimore -- Dmitri Young went 3-for-5 with a homer and three RBIs, leading a 16-hit attack. Omar Infante also homered for the Tigers, who cruised to their first win against Baltimore since May 7, 2003. Detroit went 0-6 against the Orioles last season, scoring a total of 17 runs.
Brandon Inge went 3-for-3 with two walks, two RBIs and three runs scored.
Angels 6, Mariners 1
Anaheim, Calif. -- Vladimir Guerrero and Darin Erstad homered to help Paul Byrd get his first victory of the season.
Byrd (1-2) scattered 11 hits over eight innings while improving his career record against the Mariners to 4-0 and lowering his ERA against them to 1.38. He struck out three and walked none
Copyright 2018 The Associated Press. All rights reserved. This material may not be published, broadcast, rewritten or redistributed. We strive to uphold our values for every story published.