Over in Japan, Miles Schnaer must be a happy man.
Schnaer, who owns Crown Chevrolet Toyota Scion, has secured Toyota Financial as a presenting sponsor for the Lawrence LPGA Futures Classic May 6-8 at Eagle Bend.
"Miles just found out before he left," said Jerry Samp, a local investment broker and another prime mover in bringing the women's pro golf tournament to Lawrence. "He was really excited."
As a member of the Toyota National Dealer Council, Schnaer has been in Japan for the last couple of days touring the company's operations.
Samp declined to divulge Toyota Financial's commitment, saying only that it would cover some of the $70,000 purse. Several other sponsors also have been lined up, but tourney officials still need the cash influx from the tourney pro-am in order to make ends meet.
"The important thing now is for people to participate in the pro-am," Samp said.
Actually, there will be two pro-ams -- one in the morning and one in the afternoon May 5. The cost is $250 per person. Each participant will be placed in a fivesome with one pro.
"At some tournaments," Samp said, "they pay $1,000 a day to play with a pro."
Zayra Calderon, president and CEO of the Futures Tour, was in Lawrence on Monday for a preliminary look at Eagle Bend and to do a little drum-beating.
"I think a lot of people think they're going to be in the pro-am with a woman learning how to play golf," Calderon said. "They don't realize how accomplished these golfers are."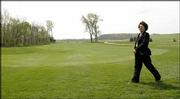 Now in its 25th year, the Futures Tour has had to fight a continual perception battle because it has no television contract and is ignored by the wire services. Information about the Tour commonly only can be found in media where an event is conducted or on its official Web site.
"I think the Futures Tour is undervalued and a well kept secret," Calderon said.
Another little known fact about the Tour is how many foreigners participate.
"People from all over the world will discover Lawrence," said Calderon, a native of Costa Rica who came to this country in 1971, "and I hope the people of Lawrence get to know them. We've had golfers from Zimbabwe, from the Czech Republic, and we've had the first four pro golfers to play outside of China.
"So it's a little more than a golf tournament. It's an opportunity for the people of Lawrence to embrace some of the finest golfers in the world. And the best way to get to know them is in the pro-am."
After two Tour stops this spring, four of the top five money winners are from foreign countries. Jin Young Pak of Korea won the season-opening tourney in Lakeland, Fla., and Sarah-Jane Kenyon of Australia captured the tourney in Oldsmar, Fla.
The Futures Tour will end a month-long hiatus this week with the Jalapeño Classic in McAllen, Texas. A week later, the touring pros will be in El Paso, Texas, for the IOS Classic. Then it will be on to Lawrence the following week.
"I can never sell the Futures Tour the way the players can," Calderon said. "Women tend to be more social and outgoing, and we work with them to make sure they understand how important it is to make an impression on the community."
Many Lawrence folks already have agreed to house players during the week of the tournament, and many others have volunteered for the assorted jobs necessary to produce a golf tournament. More are needed, however. If you're interested, call Mary Kay Samp at 865-2458 or e-mail her at mksamp@hotmail.com.
More important, however, tourney officials want people to sign up for the pro-ams. Only about half the slots have been filled.
Calderon isn't surprised the pro-am hasn't caught on because, she said, that's typical for a first-year Futures Tour event.
"Volunteers and housing are never a problem," Calderon noted. "It's usually getting sponsors and the pro-am. But we've learned that after the first year the pro-am will automatically sell out the next year."
Calderon stressed she doesn't want this to be the only year the Futures Tour comes to Lawrence.
"We love college towns because they're very supportive and because lot of the girls played in college," she said. "We hope to field an event in Lawrence for years to come."
Any excess funds from the inaugural tourney have been ticketed to benefit Youth Leadership Lawrence.
Copyright 2018 The Lawrence Journal-World. All rights reserved. This material may not be published, broadcast, rewritten or redistributed. We strive to uphold our values for every story published.