Kansas City, Mo. — Mike Maroth, known for his finesse pitching, was pleased to have a strong fastball as well.
Maroth pitched 7 2/3 strong innings, and Ivan Rodriguez had three hits, including a home run and two-run double, leading the Detroit Tigers to a 6-1 victory Sunday over the Kansas City Royals.
"It's more important for me to locate and make my pitches," Maroth said. "That's my game. Of course, it's nice to see a fastball get up there real good."
Tigers pitching coach Bob Cluck said Maroth could run it up to 90 mph on occasion, but "that's not his game."
Maroth (1-1) was roughed up April 6 by the Royals at Detroit, allowing 11 hits and five runs in 32/3 innings. In the rematch, he retired 12 of the first 13 batters, allowing just Angel Berroa's two-out single in the second during the stretch.
"I had pretty much all my pitches working," Maroth said. "That's the only way I'm going to be effective, and I'm able to throw them for strikes. I was able to do that this time against Kansas City. The last time I faced them, I had trouble throwing all my pitches over the plate and was getting behind hitters.
"This time, I was able to get ahead of hitters. Especially when that four-run (third) inning put us up, it gave me the opportunity to go right after hitters and make them put the ball in play, and that's what it did. It worked out real well."
Maroth lowered his earned-run average from 7.27 to 4.41.
"It starts with the pitching," Tigers manager Alan Trammell said. "Mike was outstanding, working quick and throwing strikes. It's by far his best game of the season. It's what we needed."
Rodriguez had nothing but praise for Maroth.
"When he works quick and throws strikes, he's very tough to hit," Rodriguez said. "He keeps the hitters thinking on every pitch."
Rodriguez, who has the second-highest career batting average among active players at Kauffman Stadium, went 3-for-5, raising his average to .359 at Kansas City.
The Tigers batted around in a four-run third, highlighted by Rodriguez's double to left-center that drove in Nook Logan and Brandon Inge, who each reached base on bunt singles to open the inning. Rondell White singled home Rodriguez, and Omar Infante's two-out single scored White.
Logan manufactured a run in the fourth with his speed. He led off with an infield single and then stole second. When Royals starter Runelvys Hernandez (1-2) attempted to pick him off second, his throw struck the top of Logan's helmet and ricocheted to right-center as Logan scored.
"He's the fastest guy in the league," Rodriguez said.
A five-run deficit was too much for the Royals, who rank 13th in the American League with 42 runs.
"Anytime you get five runs for a starting pitcher, he'll relax more and start making better pitches," Royals manager Tony Pena said of Maroth. "We're struggling offensively right now, and that's the big difference.
"That was a tough inning. They get two bunts down and are able to score runs. When you're struggling offensively, like we are, you have to stay away from those big innings."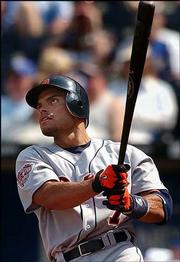 Rodriguez homered in the ninth off reliever Nate Field to close the scoring.
"I don't like to see the ball after I hit it, so I just start running, but I knew I hit it pretty good," Rodriguez said. "I knew it had a chance to go out. It was a good swing."
Maroth lost his shutout in the seventh when Eli Marrero led off with his first home run.
Hernandez gave up five runs on 10 hits and two walks in five innings.
"I lost my concentration in the third inning and that's where we lost the game," Hernandez said. "I wasn't able to hit my spots."
Said Pena, "After the bunts, Runelvys tried to make perfect pitches and he hung a couple of sliders, one that ended up for a double."
The Tigers won the final two games of the weekend series to capture a series at Kansas City for the first time since Sept. 22-24, 2003. It is only the third time since 2000 the Tigers have won a series at Kansas City.
The Royals, 1-5 on their eight-game homestand, have scored three runs or fewer in each of their eight losses this season.
¢
Notes: RHP Kyle Snyder, activated Sunday, had a 1.17 ERA in three appearances with Class AAA Omaha. He sat out last season after shoulder surgery. ... Royals 1B Mike Sweeney went 0-for-4 to snap his 10-hitting streak. ... Tigers DH Dmitri Young singled in the first to extend his hitting streak to nine games.
Copyright 2018 The Associated Press. All rights reserved. This material may not be published, broadcast, rewritten or redistributed. We strive to uphold our values for every story published.