Deadlocked in a three-way tie and headed to a sudden-death playoff after 18 holes, Kansas State University golfer Sarah Heffel knew she would win.
She even hit the shot of the day to prove it, winning Sunday's qualifying round at Eagle Bend Golf Course and earning a berth in the Lawrence Futures Golf Classic on May 6-8.
The outcome never was in question in her mind because, well, she'd been in the same situation before.
She came through in the clutch when forced into a playoff at last summer's U.S. Amateur, and Sunday's finish was even more climactic.
"I'm a playoff veteran, to be completely honest," Heffel said.
"As bad as that sounds, I'm always in the playoffs at the qualifiers. That's just the way it works."
Heffel, along with K-State teammate Hailey Mireles and Kansas University golfer Tiffany Woods, turned in a score of 74 after 18 holes, forcing a sudden-death playoff.
The trio played the par-4 No. 1 hole, where Woods placed her second shot on the green and left herself a 20-foot birdie putt. The other two were in the rough to the left of the dance floor.
"I thought I definitely had a chance to go up there and two-putt it and see if par would win," Woods said.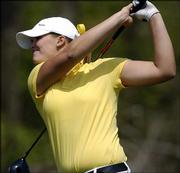 But Heffel threw the pressure on Woods, chipping in from roughly 30 feet away for birdie. She celebrated with a mild leap and a high-five for her caddy, but couldn't lapse into full jubilation until after Woods missed her putt.
It capped a solid round for Woods, who said she was most pleased with her short game.
Of the 13 golfers participating in the 18-hole qualifying round, six play for KU and six for KSU. The lone non-collegian was Tammy Johnson of Kansas City, Mo., who shot an 81. KU freshman Annie Giangrosso nearly made it a four-way playoff, carding a 75, though her eagle on No. 12 was negated four holes later by a triple-bogey.
For the KU golfers, though, it might not be such a bad thing that Heffel's chip went in. Now, instead of playing in the Futures Tour's stop in Lawrence, Woods can go with her team that weekend to the NCAA Regionals in Lubbock, Texas, if the Jayhawks qualify for regionals for the first time in school history.
To qualify, teams must finish in the top 22 in their region, and Kansas needs a solid showing at this week's Big 12 Championships in Austin, Texas.
1. Sarah Heffel (KSU) -- 74.2. Hailey Mireles (KSU) -- 74.2. Tiffany Woods (KU) -- 74.4. Annie Giangrosso (KU) -- 75.5. Amanda Costner (KU) -- 76.5. Helene Robert (KSU) -- 76.7. Michelle Regan (KSU) -- 77.8. Kali Quick (KSU) -- 80.9. Tammy Harmon -- 81.10. Meredith Winkelmann (KU) -- 82.11. Chelsey Pryor (KU) -- 83.
And if the Jayhawks make that inaugural trip, Woods is glad she'll be taking part.
"Yes," she said. "That's a good thought."
Copyright 2018 The Lawrence Journal-World. All rights reserved. This material may not be published, broadcast, rewritten or redistributed. We strive to uphold our values for every story published.