The word on the street course at Sunday's Raintree Run was that the weather was a few degrees warmer than desired.
But after last year's cyclone special, the participants had little to complain about.
"That wind was like -- what? -- 25, 35 miles per hour last year?" 5K runner Eric Graham said. "Today, that dies down to about 10 (mph), and that's 10 times easier. It's Kansas. You got to hang with it."
No one could hang with Graham -- not even the course record of 15:28 he set last year. Graham, a 26-year-old from Olathe, posted a course-best time of 15:14 during the race, a fund-raiser for Raintree Montessori School.
"This is a good indication of where my training's at," said Graham, who is preparing to run a half-marathon at the Drake Relays in Des Moines, Iowa.
He finished 1:27 faster than the second-place runner, Chase Edgerton, a Lawrence native who came in at 16:47, followed by Rob Rosusco of Lawrence at 17:11.
The first woman to finish the 5K also was from Lawrence: Mallory Richardson, a Free State High graduate and current member of the Kansas University cross country team, who posted a time of 19:20.
Lawrence natives rounded out the top three female results as well -- Maria Eifler finished second in 20:53, and Jodie Smith placed third in 20:57.
Richardson, who sprained an Achilles tendon a week and a half ago, wasn't pleased with her last mile.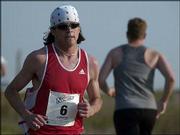 "I think the toughest thing was at that point I was by myself and had to no there to push me," Richardson said.
The half-marathon featured a repeat champion as well -- Shadrack Kimeli bettered his winning time from last year by a minute, running a time of 1:10:20.
Kimeli, a 28-year-old former distance runner at Kansas State, had competition behind him this year from the fluid stride of Jason Woolhouse, a former distance runner at Oklahoma State. Woolhouse, who lives and trains in Lawrence, entered the race Sunday after plans to compete in a 5K race in California fell through.
It was the second time this year that Woolhouse, who finished Sunday in 1:10:47, lost to Kimeli -- the two recently took part in a race in Wichita. The runners also competed against each other in college.
The race probably would have been tighter, but Kimeli's brother, Silverus, a former runner at Arkansas, pulled a hamstring Tuesday.
Jennifer Prim of Shawnee was the first woman to finish the half-marathon, posting a time of 1:26:24.
Meet director Steve Riley estimated that after walk-up registration nearly 1,300 runners took part in the ninth edition of the fund-raising run, setting a new participation record.
Riley said everything went smoothly thanks to the effort of more than 200 volunteers.
"This went real well," Riley said. "You always have entry problems, but the results went real well. I look at my mental list of things to do, and I look around and it's just done."
Copyright 2018 The Lawrence Journal-World. All rights reserved. This material may not be published, broadcast, rewritten or redistributed. We strive to uphold our values for every story published.