Do you know how many of the 117 NCAA Division I-A football schools had a worse rushing offense than Kansas University last season?
Seven. That's all. Just seven.
So when I went Saturday to Memorial Stadium to check out the final scrimmage of the spring, I was looking for evidence of improvement in the running game.
Ohmigoodness. Based on what I saw, the Jayhawks might finish 118th in the nation in rushing this fall. From where I sat, the Jayhawks might have to become the Texas Tech of the Big 12 Conference North Division.
Granted, defenses always have an advantage in a spring situation because defenders know the plays like they know their own uniform numbers. Granted, too, KU has a national-caliber defense.
But ... when you have only one rushing play that goes for double-digit yardage -- a 12-yarder by Jon (Welcome Back to Offense) Cornish -- it's a little scary.
It must be noted there was an extenuating circumstance Saturday. Clark Green was injured on the first series of downs and didn't return. We know that Green, a senior-to-be, will be the starting tailback this fall.
Green, a 5-foot-11, 220-pounder from Tampa, Fla., is as dependable a running back as KU ever has had. He can block, he can catch passes out of the backfield, and he doesn't fumble. Moreover, despite what happened Saturday, he has been durable.
Green was the leading rusher on KU's Tangerine Bowl team of two seasons ago with 968 yards and a respectable 4.7 yards-per-carry average. Green isn't going to break the long one, but he is a very serviceable back.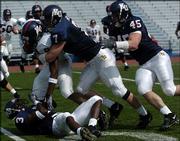 Last season, Green lost his starting job to the faster and quicker John Randle, then regained it this spring when Randle was jettisoned by coach Mark Mangino for conduct unbecoming a college student-athlete.
Mangino had no choice after Randle had been arrested four times for a variety of illegal acts, and it became clear Saturday that the loss of Randle seriously has weakened an area already considered flying a red flag.
With Clark Green ailing Saturday, Mangino was left with Gary Green (no relation), Jon Cornish and Tang Bacheyie to carry the ball. Putting it another way, Mangino had two Greens and two Canadians lugging the mail. Cornish is from suburban Vancouver, B.C., and Bacheyie is from Windsor, Ontario.
Gary Green, son of the former Kansas City Chiefs defensive back of the same name, is listed at 5-foot-9, 175 pounds. He certainly isn't any bigger than that, and Mangino confirmed he plans to use the red-shirt freshman as a situational back this fall, not as Clark Green's caddy.
That leaves Cornish, a 6-foot, 205-pounder who has been in the program for three years, as the primary back-up. And Cornish has spent practically the entire spring learning to play linebacker. He wasn't moved back to running back until Wednesday.
"I really like linebacker," Cornish said, "but if they want me to play running back, that's all right with me."
Not only do they want him to play running back, they need him to play running back, because the 6-1, 195-pound Bacheyie is a true freshman who didn't enroll until this semester.
One thing we know about the room in the football complex where the running backs meet. Nobody has to send out for more chairs.
Cornish was Saturday's leading rusher with 11 carries for 55 yards. Gary Green also carried 11 times, but for just 18 yards. Bacheyie had three carries for six yards. No wonder there were 81 passing plays during Saturday's spring wind-up and only 39 rushes.
Your next question is: Does Mangino have any running backs arriving this fall? The answer is yes. He has one -- a 6-2, 210-pounder from Cleburne, Texas, named Angus Quigley. Needless to say, Quigley will be given every opportunity even though he does not boast an impressive portfolio. KU's thumbnail bio of Quigley lists him as a second-team all-district selection of the Abilene newspaper.
Maybe it's all perception. Even though the running game looked so pedestrian Saturday that it could have been arrested for jaywalking, Mangino put on a happy face.
"Our running game wasn't great," Mangino said, "but I'm not worried."
He's not? I sure hope Mangino knows something we don't know.
Copyright 2018 The Lawrence Journal-World. All rights reserved. This material may not be published, broadcast, rewritten or redistributed. We strive to uphold our values for every story published.