Korolyov, Russia — A Russian spaceship carrying a U.S.-Russian crew and an Italian astronaut docked today at the international space station, launching a mission that paves the way for the first U.S. space flight to the orbiting outpost since the Columbia explosion two years ago.
The Soyuz spaceship locked onto the station at 6:20 a.m. (9:20 p.m. Kansas time). The three cosmonauts who blasted off Friday from the Baikonur cosmodrome in the Central Asian nation of Kazakhstan were to enter the station about three hours later and greet the two men who have operated the space station for the last six months.
Russia's space program has been the station's lifeline for two years, delivering fresh scientists and supplies. Next month, however, the new crew will welcome a space shuttle when NASA revives the program that was grounded after the Columbia disaster.
At Russian Mission Control in Korolyov, outside Moscow, engineers monitored the docking via a video feed from a camera affixed to the spaceship, and broke into applause when they saw that the automatic parking system had operated flawlessly.
Valery Lyndin, a mission control spokesman, told the ITAR-TASS news agency on Saturday that the outgoing crew members -- Cosmonaut Salizhan Sharipov and U.S. astronaut Leroy Chiao -- had tidied up the orbital home for the new arrivals, cleaning all inner panels and equipment with special napkins.
The two are due to return to Earth along with Italian Roberto Vittori from the European Space Agency on April 25.
The outgoing crew also has packed all their possessions, experiment results and photos and videocassettes they will take back with them to Earth, he said.
They will be replaced by Russian Sergei Krikalev and American John Phillips, who will have the key task of observing the condition of the insulating tiles as the Discovery approaches the station, conducting a photo survey of the exterior of the shuttle while it is maneuvering prior to docking.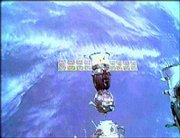 A tiny capsule that weighs only 7 tons has been the only way of getting astronauts to the station since Columbia disintegrated as it returned to Earth on Feb. 1, 2003, sparking a suspension of shuttle flights.
The 46-year-old Krikalev has logged 624 days in space on missions both to the ISS and the Russian space station Mir. At the end of the current mission, his sixth, Krikalev will have spent 800 days in space -- more than any other astronaut.
Copyright 2018 The Associated Press. All rights reserved. This material may not be published, broadcast, rewritten or redistributed. We strive to uphold our values for every story published.