Friday was a night of firsts.
First chance for local audiences to meet the newly formed 940 Dance Company, a re-invention of the Lawrence Arts Center's Prairie Wind Dancers.
First opportunity for new artistic director Susan Warden to introduce herself and her choreography to the community.
And surely the first time dancers have worn floppy socks stuffed with more socks and recited Harlequin romance novels while slinking around in pink nighties on the arts center stage.
Needless to say, "New Works/New Name," which repeated Saturday, offered a veritable feast of modern dance diversity.
"The motivation for almost all of my work is music," Warden said at the program's outset, explaining that the first piece, "Tapestry," celebrated the pure joy of Bach. Five dancers in crimson costumes weaved through the spaces between one another, often with arms rounded at their sides, indicating a spirit of wholeness. Dancers fell away, leaving trios, then duos moving through sprightly leaps and spins and concluding with Malinda Crump blowing a kiss while scampering offstage.
"Spring Fever," set to a Verdi opera, cast Beau Hancock and Tuesday Faust in a charming study of young love that had the audience laughing at every turn. Whimsical costumes -- black leotards, colorful gloves, stocking caps with poof balls and socks that flopped around with each step -- set the tone as the pair embraced, mimicked heart palpitations and grinned ear to ear between encounters that were intentionally not-so-graceful.
By contrast, Warden's "Save a Place," performed seated by Bridget Bartholome, tackled a more poignant moment: the time Warden spent at her mother's bedside holding her hand when she was dying. Bartholome, clad in black, communicated with bold gestures the complex emotions of such an experience over simple guitar and voice by Tracy Chapman.
Audience laughter returned in works such as "2146 in a Series," named for the Harlequin romance that inspired it, and "New School -- First Day," a study triggered by a particularly pathetic attempt by Warden's daughter to avoid school one morning. The former included dancers reciting tawdry lines from an encounter between Tessa and Orme (pronounced with a rolled R). The latter journeyed comically through the course of a school day, complete with morning dramatics at home, sleeping in the classroom, a slumber party and an awakening into adolescence marked by a musical shift from the eccentric Meredith Monk to the rapping Missy Elliott. Particularly amusing was an exchange between Crump as mother and Faust as daughter in which the two revealed their frustration by mocking karate moves and flexing their muscles.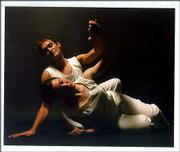 Because this is a repertory-building year for the company, all but one of Warden's pieces represented her older work. But a sneak peek at a dance-in-progress just before intermission hinted at more glorious music and exciting choreography on the horizon.
Company members Bartholome, Faust and Crump also contributed works to Friday's concert. Faust's unconventional love duet, "I Do," made intriguing use of a beam of white light to split the stage in two, separating a pair of dancers who treated it as a transparent wall. Hancock and Whitney Boomer toyed with being very intentionally together and then apart in Crump's sometimes eerily aggressive "Disconnect." Three women in wigs and provocative couture moved in alternately smooth and jerky fashion in front of a video projected on a screen in Bartholome's avant-garde "The Year of the Rooster."
And arts center ballet instructor Deb Bettinger offered "Incantations" as a prayer for those affected by the tsunami in Southeast Asia. The contemplative work set six dancers in sand-colored costumes behind a woman seated in a meditative position, all against a backdrop draped in blue light. The dancers awoke, writhed and rolled on the floor, then stood and reached with their mouths open, as if terrified and searching. Repeatedly, the dancers lay on their backs with their legs swimming in midair, always feeling very much in isolation but held together -- in spirit at least -- by the praying figure.
940's Lawrence debut proved that, like its predecessor, this company has a flair for the dramatic, a willingness to play and the ability to touch audiences with laughter and empathy.
Copyright 2018 The Lawrence Journal-World. All rights reserved. This material may not be published, broadcast, rewritten or redistributed. We strive to uphold our values for every story published.