Washington — Amid fresh jitters from Wall Street, finance officials from the world's industrial powers said Saturday surging oil prices could crimp the economy and they pledged to limit the fallout.
An intense discussion of the energy situation dominated the meeting attended by representatives from the United States, Japan, Germany, France, Britain, Italy and Canada.
"Higher oil prices are a headwind" and the global economic expansion "is less balanced than before," the finance officials said in a joint statement. They urged producers to increase energy supplies and said countries should conserve more.
The Group of Seven countries endorsed more timely and accurate information about the oil market, which officials said could help control price fluctuations and make companies more willing to expand production.
The statement underscored finance officials' resolve to deal with the energy situation and reassure financial markets that the G-7 is on top of the matter.
The private talks a few blocks from the White House followed Wall Street's worst session in nearly two years. The Dow Jones industrials plunged 191 points Friday as investors worried about high oil prices and the strength of U.S. economic activity.
In addition to the G-7 discussions, the 184-nation International Monetary Fund and World Bank were holding meetings this weekend.
At a news conference wrapping up the IMF's policy-setting committee, British Chancellor of the Exchequer Gordon Brown said concerns about oil prices also figured prominently in their discussions.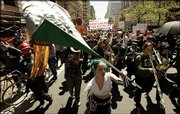 The IMF panel concluded that efforts need to be made to boost supplies, including greater use of alternative energy sources. "We recognize that the volatility of oil prices and particularly the high level in recent months could have a damaging effect on growth," Brown said. "We do believe there are measures that can be taken to make for a more efficient oil market."
Under tight security, several hundred people pressed for greater debt relief for impoverished countries and voiced opposition to the selection of Paul Wolfowitz, deputy defense secretary and an architect of the Iraq war, to run the World Bank. He starts on June 1.
Energy prices were a concern at the last G-7 meeting in February and the one before that, but little action has resulted.
Copyright 2017 The Associated Press. All rights reserved. This material may not be published, broadcast, rewritten or redistributed. We strive to uphold our values for every story published.