Atlanta — With his team trailing by 15 points at halftime, Chicago Bulls coach Scott Skiles figured it was time to fire away in the locker room.
"You only have so many bullets in the season; tonight I spent one," Skiles said.
Motivated by Skiles, Chris Duhon and the Bulls quickly caught the hapless Atlanta Hawks and ran away with a 114-105 victory Saturday night.
Duhon made eight three-pointers for a career-high 24 points, including 15 in the third period.
With his team trying to protect a one-game lead for fourth place -- and home-court advantage -- in the Eastern Conference playoffs, Skiles was disappointed with his team's defense as the Hawks led, 63-48, at halftime.
"I got into them pretty good," Skiles said. "The thing you look for in that instance is, are they going to respond."
The Hawks scored the first two baskets of the second half to push their lead to 19. Then came the response Skiles wanted. With Duhon making five of six three-point shots, the Bulls outscored the Hawks, 36-19, in the period.
"It was just one of those nights when I was in a good rhythm," Duhon said.
With the victory, Chicago swept the four-game season series with Atlanta. Duhon said veteran Antonio Davis warned the players at the start of halftime that Skiles "had the right to come in here and yell at us."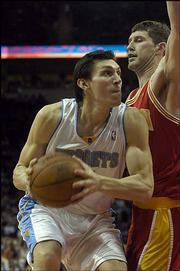 Said Bulls guard Kirk Hinrich: "Coach was a little upset at halftime, and rightfully so."
One night after matching his career high with 17 points in a 117-77 victory over Orlando, Duhon easily topped that total. Averaging only 5.7 points, Duhon -- the NBA's rookie leader in assists -- surprised players on both teams by making eight of nine three-point shots.
"Eight of nine from three, I don't remember anybody doing that," Hinrich said. "It was impressive. He was stepping into them and feeling it and we were trying to find him."
Hinrich had nine assists with 17 points.
With Duhon in the starting lineup, the Bulls are 46-25.
Rockets 115, Nuggets 87
Houston -- Tracy McGrady shook off a poor start to score 32 points, Mike James scored 23 points, Yao Ming had 13 points, 11 rebounds and five blocks, and his backup, Dikembe Mutombo, added 11 points, 12 rebounds and three blocks to help the Rockets end the Nuggets' 10-game winning streak.
Kenyon Martin led the Nuggets with 22 points and nine rebounds. Carmelo Anthony had 16 points on 4-of-17 shooting.
Knicks 100, Bobcats 98
Charlotte, N.C. -- Stephon Marbury hit a jumper with 1.7 seconds left, lifting the New York Knicks to a victory over Charlotte.
Marbury, who was benched for the entire fourth quarter Thursday in a victory over Cleveland, never gave up the ball in the final 20 seconds.
He dribbled off a screen, getting away from Brevin Knight for an instant, and buried an 18-footer from the right wing for the last of his 19 points.
Charlotte had a final chance, but Malik Allen missed a 21-foot shot from the top of the key as time expired.
Jamal Crawford added 17 points, and Kurt Thomas had 16 points and 11 rebounds for the Knicks, who have won three of four following a nine-game losing streak.
The Bobcats played most of the way without forward Emeka Okafor, who suffered a right thigh bruise after getting tangled up with New York's Michael Sweetney early in the first quarter. Okafor left the game for good in the second quarter, finishing with six points and three rebounds in 15 minutes.
Spurs 97, Grizzlies 75
San Antonio -- Bruce Bowen scored 15 points, helping San Antonio rout Memphis.
The Grizzlies failed to take advantage of Spurs forward Tim Duncan's offensive struggles. In his second game back since missing 12 games because of a sprained ankle, Duncan went 3-of-11 from the floor and scored 11 points in 23 minutes.
The Grizzlies shot just less than 33 percent from the floor and were 1-for-10 from three-point range, while the Spurs made 10 of 20 three-point attempts.
To punctuate Memphis' frustration, Grizzlies forward James Posey threw the ball almost the length of the floor when referee Ed Malloy called him for a charging foul with 10:09 left in the game and the Grizzlies trailing by 20. Posey was ejected.
Bucks 113, Magic 103
Milwaukee -- Desmond Mason scored 22 points in three quarters, and Milwaukee snapped a four-game skid. Dwight Howard led Orlando with 19 points.
Joe Smith and Erick Strickland each added 15 points for Milwaukee, and Williams had 13. DeShawn Stevenson scored 17 points, and Jameer Nelson had 16 for Orlando.
Suns 116, Kings 98
Phoenix -- Amare Stoudemire scored 22 of his 38 points in a spectacular third quarter.
Stoudemire made nine of 10 shots in the third, when the Suns opened a 27-point lead en route to their fourth victory in a row. His only miss in the quarter was a three-point try at the buzzer.
Joe Johnson scored 22 points, and Shawn Marion and Leandro Barbosa each added 17.
Clippers 94, Hornets 89
Los Angeles -- Bobby Simmons scored 21 points, and Elton Brand added 20.
The Clippers finished 27-14 at Staples Center, tying the mark they compiled in 1992-93 at the Los Angeles Sports Arena.
J.R. Smith and Dan Dickau scored 17 points each to lead New Orleans, which lost its seventh in a row.
Copyright 2018 The Associated Press. All rights reserved. This material may not be published, broadcast, rewritten or redistributed. We strive to uphold our values for every story published.