Houston — U.S. House Majority Leader Tom DeLay returned Saturday to the much-needed embrace of his home turf and his core supporters, capping a fiery convention of the National Rifle Assn. by telling the organization's leaders that guns are a critical instrument of keeping the peace and preserving the American way of life.
"It isn't just our homes and selves that need defending," he said Saturday night while delivering the convention's keynote speech. "It is our freedom. ... God gave it. The Constitution preserves it. And together we will defend it."
The NRA gave DeLay an antique-style, flintlock rifle. He held it above his head and echoed the words former NRA president Charlton Heston famously shouted when given his own commemorative gun: "From my cold, dead hands."
DeLay did not directly address the controversy swirling around him this spring.
The Texas Republican's appearance represented the apex of a convention where politicians and gun-rights advocates pulled few punches, berating and belittling Democrats, gun control advocates, the United Nations and the media, among others.
President Bush also delivered a message by videotape Saturday night to NRA leaders as 3,000 people dined on steak with cognac sauce. He pledged to fight new gun control provisions and called on Congress to pass a measure that would grant gun manufacturers and dealers immunity from some lawsuits. The measure's backers say it would protect the companies from frivolous lawsuits; critics say it would sacrifice public safety to reward the powerful gun lobby.
DeLay's appearance drew about 200 protesters to a convention center in downtown Houston. The protesters held signs that read "Fight Corruption; Dump DeLay" and chanted "This is what democracy looks like."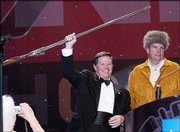 Several made clear that they were not here to protest the NRA, but DeLay himself. One of his constituents, 51-year-old Jackie Rico't, a chemical company worker from Seabrook, held a sign that read: "2nd Amendment Yes; Tom DeLay No."
"I'm not against the NRA," Rico't said. "But DeLay is bankrupt -- morally and ethically. We need to take our district back."
Copyright 2018 The Lawrence Journal-World. All rights reserved. This material may not be published, broadcast, rewritten or redistributed. We strive to uphold our values for every story published.