Chicago — Mark Buehrle wasted little time shutting down the Seattle Mariners -- except Ichiro Suzuki.
Buehrle yielded just three hits to Suzuki and struck out a career-high 12, and Paul Konerko hit a pair of home runs to lead the Chicago White Sox over Seattle, 2-1, Saturday in a brisk 1 hour, 39 minutes.
"He's unbelievable, the best to play behind," Konerko said. "He grabs the ball and throws it for strikes, and nobody is hitting it hard."
Buehrle (2-1) was dominant in his 16th career complete game, needing just 106 pitches -- 73 strikes -- and walking only one.
"I was locating my fastball probably the best I was ever locating it," Buehrle said. "I was hitting my location and keeping guys off balance. I was hitting the corners; I don't throw the ball down the middle."
Buehrle lost his shutout bid in the ninth inning when Suzuki tripled and scored on Adrian Beltre's groundout to first.
"I can't seem to get that guy out," Buehrle said. "He's the best hitter I've ever faced."
Buehrle outdueled Ryan Franklin (1-1) as the White Sox posted their eighth straight victory over the Mariners, a streak that started July 9.
Franklin allowed two runs and four hits over eight innings. He struck out three without walking a batter.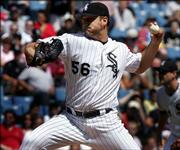 But Buehrle was the ace as the White Sox improved to 8-3, their best start since 1982.
"He (Buehrle) has his own tempo and his own rhythm," Suzuki said through a translator. "Today, he was able to pitch on his own, what he wanted to do and the pitch that he wanted to throw."
White Sox catcher Chris Widger, who singled off Franklin, said Buehrle had full command of his pitching repertoire.
"He's aggressive and has four very good pitches," Widger said. "Take the best hitter in baseball out, and you've got something special today."
After Suzuki opened the game with a single, Buehrle retired the next 11 hitters before walking Bret Boone with two outs in the fourth. Following Boone's walk, Buehrle retired five straight before Suzuki singled with one out in the sixth.
Konerko's solo shot gave Chicago a 1-0 lead in the second. His fifth homer of the season landed halfway up the left-field bleachers.
In the sixth, Suzuki became Seattle's first base-runner to reach second. After his single, Suzuki advanced on Randy Winn's groundout, but was left stranded when Beltre bounced out.
Konerko led off the seventh with his second homer, also to left field. It was Konerko's first multihomer game this season and 12th of his career.
Red Sox 6, Devil Rays 2
Boston -- Manny Ramirez ended his longest homerless drought to start a season with a grand slam and a two-run shot, and Matt Clement won in his Fenway Park debut to lead Boston.
Ramirez hit a two-run shot in the third inning, his 39th at-bat this season. In 2003, he didn't connect until his 35th at-bat. He hit the 18th grand slam of his career in the sixth.
Blue Jays 8, Rangers 0
Arlington, Texas -- Blue Jays rookie Gustavo Chacin pitched eight shutout innings, and Reed Johnson was hit by a record-tying three pitches -- two with the bases loaded -- in Toronto's victory over Texas.
Chacin (3-0) allowed two hits, walked two and hit a batter in his fifth major-league start to help the Blue Jays win for the sixth time in eight games.
Johnson was hit by a pitch in the third, sixth and eighth innings, with the last two driving in runs. He set a franchise record and tied the major-league mark.
Athletics 1, Angels 0, 10 innings
Oakland, Calif. -- After Rich Harden and Jarrod Washburn dueled through eight scoreless innings, Nick Swisher scored from first base on reliever Scot Shields' throwing error in the 10th inning. The A's hadn't scored in 14 innings before their extra-inning rally against Shields (2-1), who threw just six pitches.
Orioles 7, Yankees 6
Baltimore -- Brian Roberts hit a three-run homer off Tom Gordon to cap a five-run seventh inning, and Baltimore rallied.
Roberts went 2-for-4 with two walks to raise his batting average to .444. The 5-foot-9 second baseman already has five home runs, matching his career high.
The Orioles trailed 6-2 before sending eight batters to the plate in the seventh. After Javy Lopez and Jay Gibbons hit RBI singles off Tanyon Sturtze, Roberts sent a 2-1 pitch from Gordon (0-2) over the right-field scoreboard to give Baltimore its first lead.
Twins 6, Indians 4
Cleveland -- Lew Ford and Torii Hunter each hit three-run homers to help Minnesota defeat Cleveland for its sixth straight victory. Dave Gassner (1-0) worked six strong innings to become the first Twins pitcher to win his major-league debut since Eric Milton beat Kansas City on April 5, 1998.
Terry Mulholland pitched 22/3 innings of relief.
Copyright 2018 The Associated Press. All rights reserved. This material may not be published, broadcast, rewritten or redistributed. We strive to uphold our values for every story published.