Shanghai, China — About 20,000 anti-Japanese protesters -- some shouting "kill the Japanese" -- rampaged through Shanghai on Saturday, stoning Japan's consulate and smashing cars and shops in protest over Tokyo's bid for a permanent U.N. Security Council seat and perceived whitewashing of wartime atrocities.
Thousands of police watched the rioting but did little to restrain the crowd, and Japan filed an official protest, complaining that Chinese authorities failed to stop anti-Japanese violence for a third weekend in a row.
Japan's Embassy said two Japanese were injured after being surrounded by a group of Chinese, Kyodo News agency reported. The extent of their injuries was not immediately known.
Japan's Foreign Ministry denounced the protesters' "destructive and violent actions" and said it had "strongly protested" to the Chinese government.
"Even though information was available beforehand to infer that there would be a demonstration, nothing was done to prevent it," the ministry said in a statement.
The Shanghai government, however, blamed Japan, saying the protest was prompted by "Japan's wrong attitudes and actions on a series of issues such as its history of aggression," the official Xinhua news agency quoted government spokeswoman Jiao Yang as saying.
Jiao called for calm and asked residents not to participate in unauthorized demonstrations.
Thousands of people also participated in peaceful protest marches in Hangzhou and Tianjin, defying government demands for restraint. In Beijing, hundreds of police blanketed Tiananmen Square in the center of the Chinese capital to block a planned protest.
State television did not mention the Shanghai protests in its main evening news report, apparently reflecting fears by communist leaders that they could further damage already sour relations with Tokyo or encourage others to take to the streets against corruption or demand political reforms.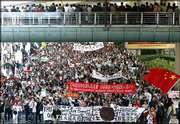 Some have suggested that Beijing has permitted recent protests to support a campaign against Tokyo's bid for a permanent Security Council seat. The five current permanent members -- Britain, China, France, Russia and the United States -- have veto power over U.N. actions.
Tensions between the regional rivals also have been heightened by disagreements over gas resources in disputed seas and new Japanese textbooks that critics say gloss over Japan's wartime offenses. Many Chinese believe Japan has never truly shown remorse for atrocities committed during its pre-World War II invasion of China.
Japan's Foreign Minister Nobutaka Machimura was preparing to fly to Beijing on Sunday for talks aimed at defusing the tensions. Japan and the United States warned its citizens in China about possible danger before the protests.
Copyright 2018 The Associated Press. All rights reserved. This material may not be published, broadcast, rewritten or redistributed. We strive to uphold our values for every story published.