For Leonard Monroe, the Korean War was never the Forgotten War.
He can't help but remember his two good friends who were killed while serving with him in Korea.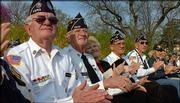 "I'll never forget it," the Lawrence veteran said. "Guys sacrificed their lives for this. It's pretty important to remember that."
About 500 people, including Monroe and dozens of other veterans, paused to remember those sacrifices Saturday as Kansas University dedicated its Korean War Memorial.
The memorial includes the names of 44 students, faculty, staff and alumni killed in the war. It also includes benches, a plaque describing the war and "Korean Cranes Rising," a sculpture by KU design professor Jon Havener.
It joins Memorial Stadium, which is a memorial to World War I veterans; the Campanile and Kansas Union, memorials to World War II; and the Vietnam Memorial along Memorial Drive.
The project was in the works for 30 years but never received sufficient funding. Finally, the $100,000 was secured in recent years from Koreans living in Kansas City and South Korea who wanted to pay tribute to those who died.
"Without the sacrifice, the South Korea we know today would neither exist nor enjoy the peace, prosperity, freedom or democracy it does today," said Jong-Woo Han, a KU graduate and donor who lives in South Korea. "The Korean War is often portrayed as the Forgotten War, but it can never be a forgotten War to us Koreans."
Chancellor Robert Hemenway told the crowd about Jack A. Davenport, one of the 44 listed on the memorial plaque. Davenport was killed when he fell on a grenade that landed in a foxhole occupied by himself and another Marine. His actions likely saved the other Marine's life.
Davenport was posthumously awarded the Congressional Medal of Honor.
"All of these students deserve KU's thanks this morning and every morning," he said.
Copyright 2018 The Lawrence Journal-World. All rights reserved. This material may not be published, broadcast, rewritten or redistributed. We strive to uphold our values for every story published.