Atlanta — A defiant Eric Rudolph pleaded guilty Wednesday to carrying out the deadly bombing at the 1996 Atlanta Olympics and three other attacks, saying he picked the Summer Games to embarrass the U.S. government in front of the world "for its abominable sanctioning of abortion on demand."
"Because I believe that abortion is murder, I also believe that force is justified ... in an attempt to stop it," he said in a statement handed out by his lawyers after he entered his pleas in back-to-back court appearances, first in Birmingham, Ala., in the morning, then in Atlanta in the afternoon.
Rudolph, 38, worked out a plea bargain that will spare him from the death penalty. He will get four consecutive life sentences without parole for the four blasts across the South that killed two people and wounded more than 120 others.
Rudolph expressed remorse in his statement only for the Olympic bombing, saying "I do apologize to the victims and their families." In all the attacks, he said he intended only to target "agents of the Washington government" or "abortionists."
In Atlanta, Rudolph sat stone-faced and answered questions calmly and politely. In Birmingham, though, he winked toward prosecutors as he entered court, said the government could "just barely" prove its case, and admitted his guilt with a hint of pride in his voice.
The statement -- a rambling manifesto on 11 typewritten, single-spaced pages -- marked the first time he offered a motive for the attacks.
"The purpose of the (Olympic) attack on July 27th (1996) was to confound, anger and embarrass the Washington government in the eyes of the world for its abominable sanctioning of abortion on demand," Rudolph said in the statement, in which he also quoted the Bible repeatedly, condemned homosexuality and complained that the Olympics promote "global socialism."
The plan, he said, "was to force the cancellation of the Games, or at least create a state of insecurity to empty the streets around the venues and thereby eat into the vast amounts of money invested."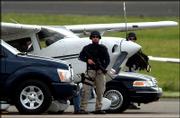 The bomb that exploded at the Olympics was hidden in a knapsack and sent nails and screws ripping through a crowd at Centennial Olympic Park. A woman was killed and 111 other people were wounded in what proved to be Rudolph's most notorious attack.
Rudolph also admitted bombing a gay nightclub in Atlanta, wounding five people, in 1997, and attacking a suburban Atlanta office building containing an abortion clinic that same year. Six people were wounded in that attack, which consisted of two blasts, first a small one to draw law officers, then a larger explosion.
In Birmingham earlier in the day, Rudolph pleaded guilty to an abortion clinic bombing there in 1998 that killed an off-duty police officer and maimed a nurse. With his head tilted back, Rudolph looked down his nose slightly as U.S. District Judge Lynwood Smith in Birmingham asked whether he set off the blast.
"I certainly did, your honor," Rudolph said.
Copyright 2018 The Associated Press. All rights reserved. This material may not be published, broadcast, rewritten or redistributed. We strive to uphold our values for every story published.