New York — The doll aisle of most toy stores is full of pretty, perky, plastic girls, mostly with porcelain white skin and long, smooth blond hair. They wear expressions that say they always have a good time -- and who wouldn't in a make-believe world of makeup, Corvettes, surfboards and cell phones?
Really, though, how many people look like that? And how many people live like that -- especially children, the intended audience for the dolls?
Courtney Helm didn't see any doll that looked like her nephew Cameron, who was born five years ago to a white mother and a black father. Helm also saw many biracial children in her Brooklyn, N.Y., neighborhood who were without a doll model.
She saw an opportunity to fill a void in the very competitive toy marketplace with her own line of dolls that she calls Real Kidz. The tagline is "created out of love."
"I wanted Cameron to feel comfortable in whatever situation he's in. I want to teach tolerance, I want kids to know everyone is different," Helm says.
Goodwin, an 18-inch plush version of Cameron (whose name was already being used by a Bratz doll), was the first, but his group of friends quickly expanded to include Tillary, who has a black mom and white dad; Willough, who has a white mom and Hispanic dad; Quincy, who has a white mom and an Asian dad; and Remsen, who has an Asian mom and a black dad.
All are named for streets in Helm's neighborhood. This way there are no trademark issues, and, she adds, there's probably nowhere on earth with more diversity than Brooklyn.
No preconceived notions
The first wave of Real Kidz features more girls because girls are the ones who traditionally play with dolls, but since the collection launched a year ago, Helm has had an equal number of inquiries from parents of both sexes. Look for the next batch of Real Kidz due later this year to have more boys -- especially since Helm now has her own son, Campbell, and her sister Caroline, Cameron's mother, has a second son (Reese) and a third on the way. They all want their own doll.
The new biracial combinations likely will include black-Hispanic, Hispanic-Asian and American Indian-Asian.
"I get a lot of requests from kids and parents of all different backgrounds ... and I do take the e-mail requests into account. There are a lot of potential combinations," Helm says.
The dolls are targeted to preschoolers and toddlers because they're the ones who have no preconceived ideas about race, Helm says. Look at some of their favorite characters: Elmo is red, and Cookie Monster is blue.
Real Kidz are soft and have no detachable parts, and Helm, who studied toy design at the Fashion Institute of Technology, paid close attention to detail in creating outfits that would be at home on any playground and hair that accurately represents the dolls' racial heritage without putting an exclamation point on it.
"Growing up, there weren't even dolls with red hair. Now we have that, and that, on a tiny level is progress. I hope I add to it," Helm says.
'OK to be a little girl'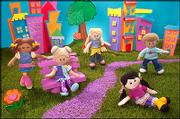 Meanwhile, Len Simonian, president of Only Hearts Club, set out to create a group of dolls that would have interests and lifestyles more in line with their human playmates. Taylor Angelique, Olivia Hope, Lily Rose, Briana Joy, Karina Grace and Anna Sophia are 8-year-old California girls who love animals, take ballet lessons and play soccer.
His most important advisers are his own 8-year-old Taylor and her friends. (The Only Hearts Club is a true family business, with Simonian's father-in-law Rouben Terzian as the designer, mother-in-law Nina as the co-author of the accompanying series of books, and wife Kristy as the "lifestyle consultant" who helps picks the clothes and activities.)
"We wanted them to be as real as little dolls can be," Simonian says.
The dolls don't look as if they're wearing makeup, and the heels on their shoes aren't high. Each has its own personality profile and her own pet. They wear miniskirts and cargo pants, and carry backpacks. "They're not goody-two shoes, and they're not 'bad' girls," Simonian describes.
He, too, felt there was a hole in the toy aisle where dolls that girls could relate to should be.
"They're are not fantasy dolls, they're peers of the girls playing with them. They're not getting married or getting jobs. ... Girls see the dolls and say, 'This is me,' or 'This is my sister,"' he says. "We view it as a healthy and different experience.
"There is a place for fantasy play but this allows little girls to extend their personal lives," he says. "It's nice to be able to celebrate all the good things about being a little girl, and that it's OK to be a little girl -- and you don't have to grow up too fast."
Copyright 2018 The Associated Press. All rights reserved. This material may not be published, broadcast, rewritten or redistributed. We strive to uphold our values for every story published.