Although some people might wonder about a cuisine based on a cranky guy named "Cookie" who could bake biscuits, the cowboy mystique has inspired chuck-wagon competitions, cowboy cookbooks and lots of folks who just want to try their hand at cooking the foods of the Old West.
"The food was very basic," says Les Mergelman, "and it wasn't very fancy, but it was wholesome and cooked right there on the spot, so it was fresh."
Mergelman is a retired agricultural banker from Cedaredge, Colo., who owns a chuck wagon and cooks from it as a hobby. He was raised on a cattle ranch in Gunnison, Colo.
Much cowboy fare was one-pot, slow-simmered foods, ready when the wranglers packed it in at the end of the day, not unlike what the busy family needs today.
In the early cowboy days, supplies were extremely limited -- coffee, beans, jerky, whatever the cowboys could carry with them. Everything changed in 1866, when Charles Goodnight invented the chuck wagon, a refitted Army surplus wagon that became the prototype.
Goodnight's design, according to lonehand.com and other sources, included a chuck box and a boot on the end of the wagon. The chuck box stored supplies and had a hinged lid that dropped down and served as a worktable. The boot carried the cooking gear. To make the wagon as functional as possible, the outside was fitted to hold tools, a water barrel and, most important, a coffee grinder.
No one wanted to get between a cowboy and his coffee. There were lots of "recipes" for making coffee, which was always the same brand, Arbuckles.
According to "Arbuckles: The Coffee That Won the West" (Francis Fugate, Texas Western Press), one of them was: "Take two pounds of Arbuckles, put in 'nough water to wet it down, boil for two hours, and then throw in a hoss shoe. If the hoss shoe sinks, she ain't ready."
After the invention of the chuck wagon, Mergelman says, cowboy cuisine moved up a notch, with Cookie keeping one step ahead of the cowboys so that he could prepare all the meals.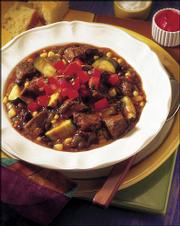 A good cook could produce decent fare with a few staples, along with berries, rhubarb and wild onions foraged along the trail.
Today's cowboy-cook wannabes can replicate the style of cooking and the types of foods without resorting to the sameness of the everyday fare.
"I'm sure it did (get monotonous), ... but it's the romance of the cowboy and the Western way of life," Mergelman says. "Anymore, with the various things that we have, we can modernize the food. We don't have to use dried apples, dried peaches and raisins, which is all they had."
Mexican beef stew
3 pounds beef for stew, cut into 1-inch pieces
2 tablespoons vegetable oil
1/2 teaspoon salt
1 cup ready-to-serve beef broth
1 cup prepared thick-and-chunky salsa
2 medium zucchini, halved, sliced (3/4-inch)
1 can (15 ounces) black beans, rinsed, drained
1/2 cup frozen corn
2 tablespoons cornstarch dissolved in 3 tablespoons water
Toppings: Tomato, chopped; fresh cilantro, dairy sour cream (optional)
Heat oil in Dutch oven over medium heat until hot. Brown beef in batches; pour off drippings. Return beef to pan; season with salt.
Stir in broth and salsa; bring to a boil. Reduce heat; cover tightly and simmer 1 1/2 hours. Stir in zucchini, beans and corn; continue cooking, covered, 15 to 20 minutes or until beef is fork-tender.
Stir in cornstarch mixture; cook and stir 1 minute or until thickened.
Serve with toppings. Makes 6 to 8 servings.
Source: National Cattlemen's Beef Assn. and the Cattlemen's Beef Board
Chipotle beef pot roast
1 package (1 3/4 to 2 1/2 pounds) fully cooked boneless beef pot roast with gravy
1 can (15 1/2 ounces) chili beans with chipotle peppers, undrained
1 cup frozen corn
1 cup prepared chipotle thick-and-chunky salsa
1 tablespoon chopped fresh oregano or 1 teaspoon dried oregano
1/2 teaspoon ground cinnamon
Remove beef pot roast from package. Measure 3/4 cup gravy; place in large skillet. (Discard any remaining gravy.) Add remaining ingredients (except pot roast) to skillet; bring to a boil.
Cut pot roast into 1/4-inch thick slices; add to skillet.
Reduce heat to medium-low; cover and simmer 8 to 10 minutes or until heated through, stirring occasionally. Makes 6 servings.
Cook's tip: If chili beans with chipotle peppers and/or chipotle thick-and-chunky salsa are not available, add 1/2 to 1 teaspoon minced chipotle peppers in adobo sauce to regular chili beans and to regular salsa.
Sirloin chili with black beans
2 tablespoons olive oil
2 pounds boneless sirloin, cut into 1/2 inch cubes
1/4 cup masa harina or cornmeal
2 large onions, coarsely chopped
6 garlic cloves, finely minced
4 fresh jalapeños, veins and seeds removed, finely chopped
2 tablespoons ancho chile powder
2 tablespoons mild New Mexico chile powder
1 teaspoon toasted, ground cumin
1 teaspoon Mexican oregano
2 large beef-bouillon cubes, such as Knorr, in 4 cups boiling water
4 cups cooked black beans or 2 cans (15-ounces each), rinsed and drained
Red Onion Salsa (see recipe)
Grated Cheddar or Monterey Jack cheese
In a large heavy pot, heat the oil over medium-high heat until it's hot but not smoking.
Add the sirloin cubes and brown on all sides.
Lower the heat to medium-low, add the masa harina or cornmeal, onion, garlic and jalapeños and cook for about 5 minutes, until the onion has softened.
Add the chile powders, cumin and oregano and cook, stirring, for 3 minutes.
Add the bouillon broth, bring to a boil, reduce heat to low and simmer, uncovered, stirring the chili from time to time, for about 30 minutes, or until the meat is tender.
Stir in the black beans and cook over low heat for 15 to 20 minutes more.
Serve the chili accompanied by the Red Onion Salsa and grated cheese. Makes 10 servings.
Red onion salsa
4 red onions, finely chopped
4 tablespoons coarse salt
1 cup finely chopped cilantro
2 fresh jalapeños, cored, seeded and finely chopped
Juice of 1 lime
Place onions in a large bowl; toss with salt. Add ice water to just cover. Let stand for 30 minutes.
Drain the onion and place in a mixing bowl. Add cilantro, jalapeño chiles and lime juice.
Mix well and serve as a topping for chili.
Makes about 2 cups (16 servings)
Source: "Chili! 60 Soul-Satisfying Recipes For America's Favorite Dish," by Maria Robbins
Copyright 2018 The Lawrence Journal-World. All rights reserved. This material may not be published, broadcast, rewritten or redistributed. We strive to uphold our values for every story published.