Anaheim, Calif. — Ruben Gotay wanted to come back strong after an embarrassing error the night before. Brian Anderson was determined to get off to a good start after the worst season of his career.
Both got what they were looking for.
Gotay went 4-for-5 with a homer and three RBIs, while Anderson won his season debut, leading the Kansas City Royals to an 8-3 victory over Bartolo Colon and the Los Angeles Angels on Sunday.
"Having a game like this after what happened last night, it gets your confidence back," Gotay said. "I just wanted a chance to help the team by getting on base and getting RBIs. Colon's a good pitcher, but the thing is that we came out aggressive -- not just me, but everybody -- and we didn't lose that aggressiveness."
Staked to a 6-0 lead, Anderson (1-0) allowed three runs and five hits in six-plus innings. He gave up a homer to AL MVP Vladimir Guerrero, struck out five and walked none.
"When I started warming up, I felt locked in right from the beginning," Anderson said. "I was trying to tell myself to remember what I was doing in the bullpen and take it into the game. My biggest concern was having one outing this spring of 54 pitches and one of 72. And that was 11 days ago. So I knew I was going to be hyped-up early because it was my first time out there."
Mike Sweeney was 3-for-4 with a pair of RBI singles, and Emil Brown also homered for Kansas City, which finished with 17 hits. The Royals, swept 7-0 by the Angels last season while losing a franchise-record 104 games, took two of three from the defending AL West champions.
"I didn't realize until yesterday that they had drummed us like that last year," Anderson said. "We just came in here looking to play good baseball against a quality team. They've got a tremendous ballclub. Just look at the lineup they throw out there and the pitchers they've got. So we knew we had to play extremely well to stay competitive with them."
Anderson, who had a career-worst 12 losses last season, struck out his first three batters on 16 pitches and retired 10 straight before Chone Figgins tripled to left-center with one out in the fourth, and Guerrero homered on the next pitch.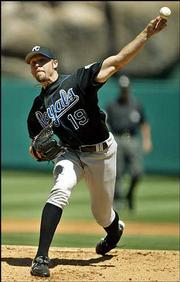 The Angels, whose 32 triples in spring training were just five shy of their entire total for last season, narrowed the gap to 6-3 in the seventh with an RBI triple by Orlando Cabrera that chased Anderson. But the Royals' bullpen, which had a 6.50 earned-run average through the first five games, held the Angels at bay.
Brown homered in the eighth against rookie reliever Jake Woods, and Gotay singled home another run two outs later against Bret Prinz for his career-best fourth hit.
Prinz faced three more batters before coming out with a strain in the back of his right shoulder. He was placed on the 15-day disabled list after the game and replaced by Triple-A right-hander Chris Bootcheck.
Colon (1-1) allowed six runs and 11 hits in six innings, after holding Texas to one run over six innings on opening day. The beefy right-hander threw 34 pitches during Kansas City's four-run second.
"I felt good, and all my pitches were working. But their hitters put good swings on the ball. I have no excuses," Colon said through a translator. "My location was fine. I kept insisting on finding a zone on the outside half of the plate. But I didn't have it consistently, and when I made mistakes, they made me pay."
Terrence Long started the Royals' second inning with a double and just beat the throw home from Steve Finley on a single to center by Angel Berroa. Angels catcher Jose Molina, making his season debut while brother Bengie got the day off, argued with plate umpire Bill Hohn about the call while Berroa alertly hustled to second base.
Alberto Castillo doubled home Berroa, and Gotay capped the rally with a two-run homer, his second in 164 big league at-bats. Gotay is the nephew of former major leaguer Julio Gotay, who played for four teams, including the Angels, during his 10-year career.
Notes: Long left in the fourth with a charley horse in his left leg. ... Anderson, a first-round draft pick by the Angels in June 1993, is beginning his 13th big-league season.
Copyright 2018 The Associated Press. All rights reserved. This material may not be published, broadcast, rewritten or redistributed. We strive to uphold our values for every story published.