Denver — Hundreds of travelers were stranded at the Denver airport and along highways Sunday as a blizzard blew across eastern Colorado with wet, heavy snow.
Almost a foot of snow fell in Denver and 2 feet in Greenland, about 20 miles north of Colorado Springs, the National Weather Service said. Heavy snow was still coming down Sunday evening but was expected to fade overnight.
"I can see just across the street and that's it," Heather Vansickler said at the Country Store in Palm Lake, 45 miles south of Denver.
Fat, moisture-laden snowflakes were blown sideways by wind gusting to 30 mph. Xcel Energy reported that 11,000 customers were without power in the heavily populated Front Range region.
Most airlines canceled their flights for the day, including United Airlines, the biggest carrier at Denver International Airport, airport spokesman Steve Snyder said.
Hundreds of people were stranded at the airport, many stretching out on couches and the floor, using coats for pillows, or waiting in slow-moving lines at fast-food restaurants in the terminal.
Flights also were canceled out of Colorado Springs throughout the day.
Whiteout conditions shut down a 16-mile stretch of heavily traveled Interstate 25 between Denver and Colorado Springs, 60 miles to the south. I-70 was closed in both directions in the Denver area. The state Department of Transportation said crews reported whiteout conditions on Interstate 76 near the Nebraska state line.
About 300 truckers waited out the storm at the TA Truck Stop along I-70 in Wheat Ridge, said general manager Richard Lemm.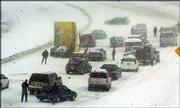 A shelter also was set up at a church about 90 miles east of Denver in Limon.
Thousands of schoolchildren had classes canceled today.
Three state-run prisons in Denver also were closed to visitors by weather for the first time ever, said Alison Morgan, spokeswoman for the state corrections department.
The storm, which struck western Colorado on Saturday, was expected to blow out of the area late Sunday, mostly turning to rain over the Plains.
Copyright 2018 The Associated Press. All rights reserved. This material may not be published, broadcast, rewritten or redistributed. We strive to uphold our values for every story published.