Miami — Dontrelle Willis and Miguel Cabrera showed why they once were the Florida Marlins' most promising young prospects.
Willis pitched a five-hit shutout, and Cabrera homered twice to lead Florida to a 9-0 victory over the Washington Nationals on Friday night.
"In 2003, when they came up as young kids, they just supplied so much energy for the rest of the club," Marlins manager Jack McKeon said. "They love to play the game, and the rest of the guys feed off that."
Willis (1-0), the 2003 Rookie of the Year, allowed just one walk and handed the Nationals their first shutout as a Washington team. The Nationals had 40 hits in their season-opening three-game series at Philadelphia.
It was the third career shutout for the left-hander, who went 10-11 last season.
"Us young guys, the more we go out there, the more confident we get," said Willis, who threw 97 pitches.
Cabrera, batting in front of new Marlins slugger Carlos Delgado, hit long home runs off Washington starter Tomo Ohka (0-1) and reliever Antonio Osuna.
"I just play my game, and that's it," Cabrera said. "I don't want to say I'm going to hit 30 home runs or 40 home runs. I'm going to do my best and that's it."
Cabrera, who led the Marlins with 33 homers last season, hit a two-run shot off Osuna in the Marlins' six-run eighth.
Braves 3, Mets 1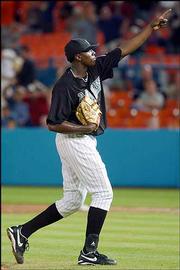 Atlanta -- New York fell to 0-4 for the first time since 1964 as John Thomson (1-0) allowed one run and eight hits in seven innings. Atlanta has won three straight since an opening-day loss despite scoring just nine runs this season.
Roman Colon stranded Jose Reyes at second base after a single and steal in the eighth inning, and Danny Kolb pitched the ninth for his third save in three chances.
Brewers 6, Cubs 3, (12)
Chicago -- Milwaukee is unbeaten in three games for the first time in a decade, and Chicago's bullpen stumbled again. Milwaukee rallied in the ninth inning against LaTroy Hawkins, then got RBI singles from Junior Spivey and Lyle Overbay in the 12th in Chicago's home opener at Wrigley Field. Jorge De La Rosa (1-0) pitched two hitless innings for his first major-league victory, and Mike Adams threw a perfect 12th for his first career save.
Cardinals 6, Phillies 5
St. Louis -- Larry Walker tied the game with a four-pitch walk from Aaron Fultz in the eighth inning, and Albert Pujols followed with another walk that forced in the go-ahead run. Mark Grudzielanek, Reggie Sanders and pinch-hitter Yadier Molina loaded the bases with consecutive singles off Ryan Madson (0-1). Roger Cedeno, another pinch hitter, had a sacrifice fly that pulled St. Louis to 5-4. Al Reyes (1-0) pitched two scoreless innings for the win.
Astros 3, Reds 2
Houston -- Roger Clemens (1-0) allowed one run in seven innings and hit a tiebreaking, two-run single, tying Steve Carlton for ninth place with his 329th win. Cincinnati's only run off him with a fifth-inning homer by Joe Randa. Brad Lidge got four outs for his second save. Matt Belisle (0-1) was the loser.
Dodgers 8, D'backs 7
Phoenix -- Pinch-hitter Jose Valentin had a two-run homer that capped a four-run ninth inning. Troy Glaus put the Diamondbacks up 7-4 with a three-run homer in the eighth inning. Arizona closer Brandon Lyon (0-1) struck out Olmedo Saenz leading off the ninth, then Antonio Perez reached on Glaus' error at third. Jason Phillips popped out, Ricky Ledee doubled in one run, and Cesar Izturis' RBI single cut the lead to 7-6. Yhency Brazoban, the Dodgers' closer in place of injured Eric Gagne, pitched a perfect ninth for his first major-league save. Steve Schmoll (1-0) got the win.
Pirates 3, Padres 2
San Diego -- Josh Fogg (1-0) allowed one run and four hits in 61/3 innings, and also singled and scored as Pittsburgh got its first win. Craig Wilson hit a bases-loaded, two-run single with two outs in the third off Brian Lawrence (0-1) after Fogg opened the inning with a single.
Giants 10, Rockies 8
San Francisco -- Marquis Grissom hit a three-run homer in the bottom of the ninth for San Francisco, which survived after blowing a six-run lead. Grissom connected on a 2-2 pitch from Scott Dohmann that hit the left-field wall and bounced over for his first homer of the year. Jason Christiansen (1-0) pitched a perfect ninth for the victory.
Copyright 2018 The Associated Press. All rights reserved. This material may not be published, broadcast, rewritten or redistributed. We strive to uphold our values for every story published.