New York — Lee Mazzilli decided to have a little fun with a flukey statistic.
Within earshot of Sammy Sosa in the Baltimore clubhouse, the Orioles manager asked Brian Roberts how many homers he had.
The light-hitting leadoff batter had homered for the second straight day to spark the Baltimore Orioles' slumbering offense to a 12-5 romp over the New York Yankees on Friday night.
"It's always a big joke if I hit a homer," Roberts said.
Sosa, Miguel Tejada and Rafael Palmeiro, the Orioles' 3-4-5 hitters, have yet to homer this season in 33 at-bats.
"Coming off three games where we didn't hit the ball, it seemed like everybody contributed," Mazzilli said. "Especially the bottom of the order."
Roberts had a lot of help from No. 9 hitter Luis Matos, and Sidney Ponson put an offseason of trouble behind him with a serviceable start to help Baltimore end an early season two-game skid.
Roberts hit a two-run homer off Jaret Wright -- making his Yankees debut -- drove in four runs and finished a double short of the cycle. Matos scored three runs and finished a homer short of the feat. Tejada had three of Baltimore's 18 hits.
"That's what we're trying for," said Tejada, the 2002 AL MVP. "It's not about one guy, it's not about me or Sosa."
The Orioles pumped up their offense in the offseason by adding Sosa (574 homers) to a lineup already including Palmeiro (551), but Baltimore sputtered in the last two games of an opening series against Oakland, hitting just .113 (7-for-62) with one run.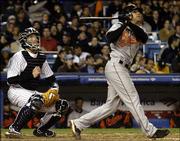 Sosa went 1-for-4, was hit by a pitch and was booed each time up in his first game at Yankee Stadium since April 17, 1991, when he was on the Chicago White Sox.
Red Sox 6, Blue Jays 5
Toronto -- Bronson Arroyo won his first start of the season, and Jason Varitek and Trot Nixon homered to lead Boston to its second straight win under interim manager Brad Mills. Before a crowd of 50,560 at Toronto home opener, Arroyo (1-0) allowed two runs and three hits in six innings. Keith Foulke allowed a pair of runs in the ninth, then retired Orlando Hudson with the bases loaded for his first save.
Indians 4, Tigers 3
Detroit -- Aaron Boone broke a 2-2 tie in the eighth with a two-run homer off Ugueth Urbina (0-1). David Riske (1-0) forced in a run in the eighth before retiring Bobby Higginson on an inning-ending flyout, and Bob Wickman pitched a 1-2-3 ninth for his first save, two days after blowing a lead at Chicago.
Devil Rays 3, Athletics 2
St. Petersburg, Fla. -- Nick Green hit a broken-bat single in the 10th off Juan Cruz (0-1) after Joey Gathright's leadoff triple and an intentional walk to Carl Crawford. Danys Baez (2-0) threw 12/3 scoreless innings. He faced one hitter in the ninth, getting Erubiel Durazo to hit into an inning-ending double play with the bases loaded.
White Sox 5, Twins 1
Minneapolis -- Orlando Hernandez (1-0) allowed one run and six hits in seven innings in his White Sox debut. Paul Konerko and Aaron Rowand hit sixth-inning homers off Kyle Lohse (0-1) in Minnesota's home opener, which drew an overcapacity crowd of 48,764. Carl Everett went 3-for-5 with two RBIs for Chicago.
Mariners 9, Rangers 6
Seattle -- Raul Ibanez hit a two-run homer, and Willie Bloomquist added a two-run single as Seattle rallied. After the Rangers went ahead in the top of the eighth against J.J. Putz (1-0) on run-scoring errors by first baseman Richie Sexson and shortstop Wilson Valdez, Bret Boone doubled off Nick Regilio (0-1) leading off the bottom half and Ibanez homered.
Copyright 2018 The Associated Press. All rights reserved. This material may not be published, broadcast, rewritten or redistributed. We strive to uphold our values for every story published.