Martinsville, Va. — Scott Riggs watched 30 cars run their laps Friday at Martinsville Speedway, got a talking to from his father and then won the first pole of his career in NASCAR's premier series.
Riggs toured the shortest, slowest track in Nextel Cup racing at 96.671 mph, relegating Martinsville master Ryan Newman to the outside of the front row. Newman, the track record-holder, qualified at 96.657.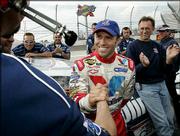 "All my dad kept preaching to me before qualifying was just be smooth, be smooth, don't slip the car," Riggs said. "Don't be too aggressive, be smooth with it and you'll be good. You know, we ended up sitting on the pole with probably the ugliest lap I've ever had out there."
At each end on the first lap, Riggs said, he went too hard into the corners, had to collect the car and sailed off into the straightaways.
"I said, 'There's one lap gone,'" he said.
Instead, that was the lap that won him the pole in his 41st start in the Nextel Cup Series, making him only the 12th driver to earn the top starting spot in NASCAR's top three circuits. He has won five poles in the Craftsman Truck Series and two in the Busch Series.
Newman, who has 29 poles in 122 starts and started in the top 10 in all six previous visits to Martinsville, had the fastest car in practice, but cloud cover and a 30-minute delay for drizzle slowed the track down.
"You can't get the pole every time," he said.
Riggs' Chevrolet is the only non-Dodge in the first two rows. The second row has Jeremy Mayfield (96.583) and defending champion Rusty Wallace (96.558), who leads active drivers with seven victories here.
Copyright 2018 The Lawrence Journal-World. All rights reserved. This material may not be published, broadcast, rewritten or redistributed. We strive to uphold our values for every story published.