Swan's Island, Maine — Leading into his Palm Sunday sermon at Swan's Island Baptist Church, the Rev. Gary DeLong told the nearly three dozen worshippers that ministers looking to fill their pews will try anything from gentle prodding to advertising.
"The method I like best is where you go from island to island, picking up your congregation," he said with a smile.
On that sunny Sunday, DeLong did just that. He sailed out of Northeast Harbor on the Maine Sea Coast Mission's 74-foot boat, the Sunbeam V, and stopped at Great Cranberry Island and Frenchboro to pick up passengers before arriving at a Swan's Island dock piled high with lobster traps.
The church service, and the lunch of corn chowder, sandwiches and strawberry shortcake that followed, gave people from the three islands a rare opportunity to meet with each other and share stories about the pleasures and challenges of island life.
Nurturing those year-round island communities that have survived harsh weather, isolation and economic change has been the focus of the mission, a nondenominational Christian ministry that turns 100 years old this July.
During lunch, old-timers on this 7,000-acre island of pine woods and fishing villages shared memories of how the mission and its vessels bearing the Sunbeam name intersected with their lives.
Gladys Joyce, 83, recalled being homesick and seasick at age 7 after she boarded the boat for her first trip off Swan's Island, to have her tonsils removed.
Sonny Sprague, a selectman and 20 years Joyce's junior, remembered the day in 1949 when he first set eyes on his twin brother and sister. They were born in Rockland and were brought home from the hospital aboard the Sunbeam.
"Over the years, they'd help families and you'd never know about it," Sprague said. "It's been a constant presence for as long as I can remember."
The Maine Sea Coast Mission was founded in 1905 by brothers Angus and Alexander MacDonald, Canadian-born pastors at churches in the Bar Harbor area. Alexander sailed the mission's first boat, a 26-foot sloop, to isolated islands, bringing spiritual solace, teaching Sunday school and delivering gifts to children at Christmas.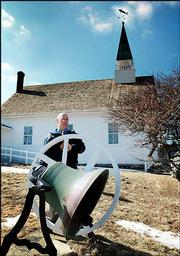 The brothers quickly recognized island needs, ranging from educational to medical, and set about looking for ways that the mission could help.
"The mission has always felt that faith was more about action than about belief. It was more about recognizing that you try to put God's love into some sort of concrete form," said DeLong, the organization's executive director.
From support of food pantries to help paying for heating fuel or medicine, the mission became a faith-based lifeline for the neediest islanders.
But its activities go beyond charity. During the mid 1920s, for example, the mission helped support struggling island families by using two donated burlaps to start a rug hooking industry that survived the Depression.
The number of islands with year-round populations has declined since the MacDonalds began their work. Back then, according to the Island Institute in Rockland, there were 300 such islands, a figure that has dwindled to 15 today.
The drop reflects economic changes.
A century ago, islanders could draw their livelihoods from granite quarries, lumbering, boat building, sheep or vegetable farms or a diverse fishery. Today they are limited mostly to lobster fishing or maintaining the properties of summer residents.
These days, four of the nine islands served by the mission -- Swan's and the Penobscot Bay islands of Vinalhaven, North Haven and Islesboro -- have their own full-time ministers who draw part of their support from the organization.
The other five islands -- Great Cranberry, Frenchboro, Isle au Haut, Monhegan and Matinicus -- make up the ministry of the Rev. Rob Benson, who arrived less than two years ago after a posting at an inner-city hospice in Washington, D.C.
Copyright 2018 The Associated Press. All rights reserved. This material may not be published, broadcast, rewritten or redistributed. We strive to uphold our values for every story published.