Gale Lantis is looking forward to starting construction of an office building west of Baldwin, and another in Manhattan.
But rolling out plans, loading up equipment and coordinating subcontractors for a new job in Lawrence will just have to wait.
"There hasn't been a lot of interest here, in either the commercial and industrial field, for building new projects or adding on so far this year," said Lantis, a co-owner of Mar Lan Construction LLC. "We don't really have much on the board right now."
Few do.
Builders have taken out permits for a little more than $22 million in construction, remodeling and related work during the first three months of 2005, according to reports from the city's Department of Neighborhood Resources.
The total is down narrowly -- $4,400 -- from the same period a year ago, and ranks as the slowest first quarter since the city issued permits for $17 million in 1997.
Contributing to the slowdown: the slowest pace of housing starts in 18 years. Builders have secured permits for 37 single-family homes through March, the fewest since 30 were issued in 1987.
For the past 10 years, the city has averaged 70 housing starts during the first quarter.
Bobbie Flory, executive director of the Lawrence Home Builders Assn., said that builders had plenty of homes already on the market and relatively few new lots for starting new ones.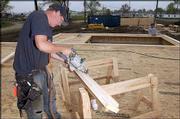 The combination has given consumers a leg up in the market, despite a slow-but-steady rise in mortgage interest rates, she said.
"It's a buyer's market," said Flory, who has 52 homes lined up for the association's Spring Parade of Homes later this month, about twice the typical number. "When there's a lot of product out there, buyers have a lot of choices. It's a great time to be a consumer."
Jeff Perry, owner of Deer Valley Commercial Construction LLC, took out the lone permit in March for new commercial construction. He's handling a $420,000 project to put up a new office building and two warehouses on a little more than three acres at 1045 E. 23rd St., the site of a former trailer park.
The site makes perfect sense for the 10,000-square-foot buildings, he said, given their proximity to hundreds of acres of developable land in southeast Lawrence, poised for new homes, businesses or both.
"Lawrence is growing toward the Kansas City area, and 23rd Street is the thoroughfare out there," Perry said. "That's why we're seeing the housing going in."
Larry Midyett, the project's owner, plans to move his Lawrence real estate operation into the office building upon its completion, scheduled for Sept. 1. Century 21 Miller & Midyett's Lawrence office currently is just down the road, in the 10 Marketplace shopping center.
Lantis, the Mar Lan co-owner, is optimistic that the overall construction market will pick up in Lawrence. The Lawrence school district this week secured voter approval for a $54.1 million bond issue to build a new South Junior High School and make other upgrades, and Kansas University continues to line up construction projects to handle research, storage and other needs.
Last month, Sabatini Architects took out a permit for construction of a $4.49 million station for fire and medical services at the corner of 19th and Iowa streets, land that previously had been home to some Kansas University fraternities.
"It's a little slow right now, but general consensus is there will be quite a bit of work at KU in the next few years," Lantis said. "We'd like to see more private money invested in the community. We need to get it on the tax rolls."
Out-of-town contractors are waiting for word on a planned expansion of Wal-Mart, 3300 Iowa, into a Supercenter. The permit is expected to be issued once Wal-Mart settles on a general contractor and provides the name to city officials.
Copyright 2018 The Lawrence Journal-World. All rights reserved. This material may not be published, broadcast, rewritten or redistributed. We strive to uphold our values for every story published.