GAZA CITY, Gaza Strip — Tens of thousands of Hamas supporters paraded Friday through downtown Gaza City, threatening to end a monthlong truce if Jewish extremists follow through on a pledge to hold a rally at a disputed holy site in Jerusalem next week.
Israeli authorities, trying to avert violence, tightened access at the site and stepped up preparations to bar Jewish demonstrators from the area during Sunday's planned march.
The hilltop site in Jerusalem's Old City is known to Jews as the Temple Mount and to Muslims as the Noble Sanctuary. The Al Aqsa Mosque compound, Islam's third-holiest site, is located there, built above the ruins of the biblical Jewish temples.
Jews opposed to Israel's planned withdrawal from the Gaza Strip want to rally at the site in a move aimed at sabotaging the pullout.
Jewish access to the compound has been strictly limited since Israel captured east Jerusalem in the 1967 Mideast war, and a large-scale rally would raise tensions with the Palestinians. A September 2000 visit to the compound by Prime Minister Ariel Sharon, who was then the opposition leader, touched off Palestinian riots that escalated into more than four years of bloodletting.
In Gaza City, some 40,000 Hamas supporters gathered Friday after weekly prayers and warned the rally could lead to an immediate resumption of violence.
Waving green Hamas flags and posters of the Al Aqsa Mosque, the protesters chanted, "We will redeem Al Aqsa with our souls and our blood!" and "They will only enter Al Aqsa over our dead bodies!"
Hamas, the largest militant group, and other violent Palestinian factions agreed last month to honor a cease-fire declared Feb. 8 by Sharon and Palestinian leader Mahmoud Abbas.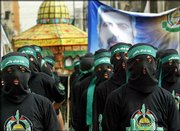 Nizar Rayan, a top Hamas official, said the group would resume its attacks on Israeli targets if Sunday's march took place.
"We will move with our rockets and our warriors in order to defend Al Aqsa and to protect it. Not only Hamas but all the Palestinians and Muslims," he said.
In the nearby Jabaliya refugee camp, some 1,200 masked and armed members of Islamic Jihad, another militant group, marched and warned of war if the mosque is threatened.
Leaders of the Al Aqsa Martyrs' Brigades, a violent group affiliated with Abbas' Fatah movement, also have threatened violence.
Copyright 2018 The Associated Press. All rights reserved. This material may not be published, broadcast, rewritten or redistributed. We strive to uphold our values for every story published.