Copenhagen, Denmark — Denmark's Prince Joachim and Princess Alexandra have finalized their divorce, the first in Europe's oldest monarchy in nearly 160 years, the royal court said Friday.
The couple, who separated in October, were married 10 years and have two sons, Prince Nikolai, 5, and Prince Felix, 2.
Before the separation, rumors of tension between the two surfaced in gossip magazines and tabloid newspapers but offered no clues that a major rift had developed. The palace has declined to say why the couple are divorcing.
Joachim, second in line to the throne after older brother Crown Prince Frederik, is staying in the couple's home, the Schackenborg Castle, north of the German border, while Hong Kong-born Alexandra and the boys have moved to a 2,895-square-foot villa in northern Copenhagen.
The divorce was the first split between Danish royals since 1846, when King Frederik VII divorced Princess Caroline Charlotte Mariane of Mecklemburg-Strelitz, Germany.
While tabloids have followed their separation closely with articles highlighting Joachim's penchant for late nights at discotheques, the couple's separation did not generate much controversy in the placid Scandinavian country.
"Many in Denmark didn't believe it could happen. But it did," said Merete Wilkenschildt, author of several books on the Danish monarchy.
Denmark, like neighboring Norway and Sweden, has long held an affinity for its royal family, which has remained largely free of scandal.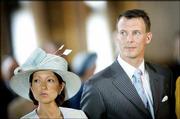 Danish media have described Alexandra, 40, as having a more professional attitude than Joachim, 35, who has been dubbed a "party prince" because of his nightclub visits.
Copyright 2018 The Associated Press. All rights reserved. This material may not be published, broadcast, rewritten or redistributed. We strive to uphold our values for every story published.