Windsor, England — At last the prince weds his true love -- a royal marriage delayed for decades by his hesitant wooing and for one more day by a pope's funeral.
Prince Charles' mother, Queen Elizabeth II, is not attending the civil ceremony, the British public still bridles at accepting Camilla Parker Bowles as a future queen, and many pine for the late Princess Di.
But as today's wedding of the 50-something divorcees approached, the town of Windsor was being buffed to a royal luster, and the faithful scouted sidewalk vantage points.
"It's a lot of hubbub, but they should have been married a long time ago," said Lorraine Milligan, a tourist from Phoenix, Ariz., as scores of journalists and police swarmed over the street below Windsor Castle's ramparts.
The wedding of the 56-year-old heir to the throne has brought a buzz to Windsor, a handsome riverside town 20 miles west of London that has been home to British monarchs for a millennium.
Hotels are fully booked, and souvenir shops are doing a brisk trade in royal wedding mugs, tea towels and even jigsaw puzzles -- although most are emblazoned with the wrong date, April 8. The wedding was postponed by a day so it would not conflict with the funeral of Pope John Paul II.
"A lot of people want April 8," said shopkeeper Deep Basra, ringing up a sale with a happy shrug.
A few royal supporters felt let down by the civil ceremony.
"I think it's terrible that they're not making much of a thing of this," said retiree Maggie Hughes. As an unseasonably cold north wind whipped over the castle battlements under a gray sky, she sensed the malevolent hand of faceless royal advisers.
"I'm sure it was done deliberately," Hughes said. "The people in dark suits said 'What about April?' knowing the weather would be like this."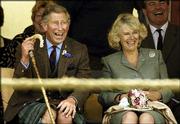 Some 800 guests -- including comedian Joan Rivers -- will attend a blessing service at Windsor Castle, where they will be invited to join the couple in confessing "manifold sins and wickedness," in the words of the Book of Common Prayer.
There is no reference to adultery or other specific misdeeds, and such confessions are standard in Anglican wedding blessings. Nonetheless, the tabloid press went into a frenzy, with the Daily Mirror printing the headline "We have sinned" over a picture of the couple wearing devil's horns.
Some people have expressed reservations about Charles -- a future supreme governor of the Church of England -- going against its traditional resistance to remarriage of divorcees. But Archbishop of Canterbury Rowan Williams said he was satisfied with the arrangements, and agreed to preside at the service in St. George's Chapel.
Charles' 57-year-old bride will enter the Guildhall as Camilla Parker Bowles. She will leave half an hour later, technically Her Royal Highness the Princess of Wales -- a title she wishes to avoid in deference to memories of Diana. She will be known instead as Duchess of Cornwall.
When Charles takes the throne she legally will be queen, but wishes to be known as Princess Consort -- a bow to opinion polls that show some 70 percent of the population opposed to Queen Camilla.
It's only a few yards from the royal residence at Windsor Castle to Guildhall. But the couple's journey there has been long and rocky.
Charles met Camilla Shand more than 30 years ago, discovering a shared sense of humor and love of rural life. But the prince sailed off on an eight-month voyage with the Royal Navy without cementing their relationship; in his absence she married Andrew Parker Bowles.
In 1981, the prince married 20-year-old Lady Diana Spencer in full regal pomp at St. Paul's Cathedral. The beautiful young princess won the nation's heart, but didn't hold her husband's. Within a few years, Charles had resumed his relationship with Parker Bowles. "There were three of us in that marriage," Diana said later -- although she acknowledged affairs of her own.
Their marriages both collapsed -- she was divorced in 1995, he in 1996. Andrew Parker Bowles remarried in 1996, and is on the guest list for today's religious ceremony.
After Diana's death in 1997, Charles and Camilla cautiously began making their relationship public. In February, the prince and Parker Bowles announced they would wed.
Copyright 2018 The Associated Press. All rights reserved. This material may not be published, broadcast, rewritten or redistributed. We strive to uphold our values for every story published.