Vatican City
Cardinals turn focus to electing new pope
Millions of mourners dissipated and world dignitaries left for home after Friday's funeral Mass for Pope John Paul II, leaving 117 Roman Catholic cardinals to focus now on electing a successor capable of building on a historic, 26-year papacy.
The outpouring of support for John Paul, particularly among the young, underscored the daunting task ahead for the cardinals, who will meet April 18 to assess a broad range of political, religious and demographic factors contributing to their choice of the next pope. Cardinals stated in media interviews this week they already were reflecting on the various issues that will influence their decision.
The flood of pilgrims into Rome, estimated at more than 4 million during the past week, indicated that enthusiasm among the world's 1 billion Catholics has rarely been more pronounced, nor has discussion of the church's traditions and values ever received such a high level of global exposure.
Rome
Thousands watch pope's funeral throughout city
For many people, the huge crowds that had jammed St. Peter's Square all week were simply too intimidating. So on Friday, they gathered at other spots in Rome to witness Pope John Paul II's funeral on huge television screens.
At St. John Lateran Basilica, where John Paul II was the bishop, 10,000 people packed the cobblestone square. The crowd at one university was reported to be 50,000. At the Circus Maximus, the site of the ancient Roman chariot races and where Christians were once fed to lions, 20,000 squeezed onto the large racing oval and the grassy hills. A couple of thousand gathered around a large screen at the Colosseum.
Magda Biyszcuk, 21, spent the night sleeping under the olive trees amid the ancient ruins between the Colosseum and the Roman Forum. She said many others slept nearby. Volunteers passed out bottled water.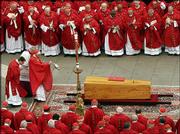 "I know I am not there, that I came a long way to watch on television and not even be able to see St. Peter's," she said, "but it is important to be here. It is important to say goodbye."
Vatican City
Funeral long on tradition
It was exactly the same. The red zucchettos. The purple sashes. The white collars. The pomp. The funeral of Pope John Paul II was following the same path as funerals of the popes who preceded him.
Then an unfamiliar sound came through the loudspeakers. It was Spanish. Then came English. Then French. Then Swahili, Tagalog, Polish, German, Portuguese and Italian. Finally, Greek. The prayers, readings, homily and blessings were as multilingual as the man for whom they were offered.
As part of the church's formalized farewell was a verbal tribute to the most traveled pope in history, who presided over a church of global reach.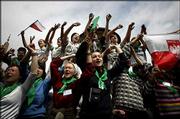 Pope John Paul wanted a simple ceremony. He took the precaution before he died of asking that his coffin be lowered into bare earth and covered with a simple marble slab.
Simplicity was not his destiny Friday, given the numbers of attendants and mourners. But his funeral service was an elaborated form of the same rite of Christian funeral Mass and burial used for Catholics. There was the same perfume of incense, silence during prayer, thirst after communion.
Vatican City
World's friends, foes converge at pope's Mass
Pope John Paul II would have enjoyed the coming together of the world's friends and foes.
It was a delicate atmosphere of forced smiles and slight acknowledgments as delegates from 75 countries, some of them not on speaking terms, sat in close proximity during the pontiff's three-hour, outdoor funeral Mass.
President Bush, who has referred to Iran as part of an "axis of evil" and whose administration is seeking to stem Tehran's nuclear program, sat not too far from Iranian President Mohammad Khatami. "Maybe today will make us hope of a future of peace, not of conflict and hatred," Khatami said in an interview in Corriere della Sera newspaper.
Israeli President Moshe Katsav said that, out of politeness, he shook hands with archenemies Khatami and Syrian President Bashar Assad.
"During the prayers," Katsav told the Israeli media, "according to the Christian tradition we exchanged handshakes. ... During this, it was the Syrian president who extended his hand to me."
Vatican City
Gregorian chant marks pope's passing
Apart from the tolling of church bells, the sound most associated this week with the death of Pope John Paul II has been the singing of Gregorian chant.
Millions heard it Tuesday, when the Polish-born pontiff's body was carried from the Apostolic Palace into St. Peter's Basilica, and again Friday throughout the open-air papal requiem Mass on the steps of St. Peter's.
Tradition has it that this music takes its name from the first Pope Gregory, "Gregory the Great," who presided over the Roman Catholic faithful at the end of the sixth century. But almost everyone hearing it is arrested by its haunting, otherworldly, timeless character.
According to the Rev. John Schiavone, pastor of St. Gregory the Great Church in Whittier, Calif., that's because chant occupies a different sound world than most music.
"The music we're used to hearing is written in major or minor keys, with a strong sense of closure or cadence," he said, meaning that melodic lines come to a definite end.
Vatican City
Young faithful turn out
"Our parents said we were nuts," Lorenza Tarmati said matter-of-factly as she sat red-eyed and groggy after a hard night spent on the cobblestones of Via della Conciliazione.
Surrounded by five friends lying in a heap over jackets and knapsacks and yoga mats, the 25-year-old brushed herself off and prepared to try to squeeze into St. Peter's Square for the funeral Mass of Pope John Paul II that drew thousands of young people from all over the world.
But if their bond was deep felt, it was filtered through the prism of their own generation. When asked about their views on sex, abortion and birth control, many said they charted their own direction, even as they venerate a man who preached Catholic orthodoxy.
In conversations, most emphasized John Paul's crusades for social and economic justice, and downplayed his conservative positions on sex and gender.
Crawford, Texas
Bush says ceremony strengthened his faith
President Bush said Friday that attending Pope John Paul II's emotional funeral strengthened his belief in Christianity, a living God and in how religious faith is a lifelong journey, not a respite.
"I knew the ceremony today would be majestic but I didn't realize how moved I would be by the service itself," said Bush, a Protestant who attends a Methodist Church. "Today's ceremony, I bet you, for millions of people, was a reaffirmation ... and a way to make sure doubts don't seep into your soul."
In an interview aboard Air Force One en route to Texas from Rome, Bush called the funeral ceremony one of the "highlights of my presidency."
Copyright 2018 The Lawrence Journal-World. All rights reserved. This material may not be published, broadcast, rewritten or redistributed. We strive to uphold our values for every story published.