Salina — Services for Bobby E. Walston, 79, Bennington, will be at 2 p.m. Tuesday at Belmont Boulevard Christian Church in Salina. Burial will follow in Bennington Cemetery.
Mr. Walston died Thursday, April 7, 2005, in Salina.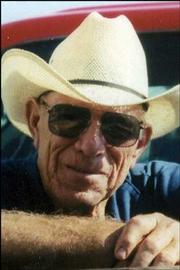 He was born Sept. 28, 1925, in Bennington, the son of George C. and Helen I. Rose Walston.
Mr. Walston farmed and ranched his entire life in Bennington, where he raised Black Angus cattle.
He married Bonnie Bloyd on July 15, 1945. She died Feb. 14, 1999.
Survivors include a son, Rob, Hamburg, Pa.; a daughter, Sheree Gill, Baldwin; two brothers, George "Kenneth," Salina, and Vilo Walston, Bennington; four grandchildren; five great-grandchildren; and a close friend, Luella Manning.
Friends may call from 9 a.m. to 8 p.m. Monday at Shields Funeral Home in Minneapolis, where the family will receive friends from 6 p.m. to 8 p.m. Monday.
The family suggests memorials to the Tammy Walker Cancer Center in Salina, sent in care of the funeral home, 405 Argyle, Minneapolis KS 67467.
Copyright 2018 The Lawrence Journal-World. All rights reserved. This material may not be published, broadcast, rewritten or redistributed. We strive to uphold our values for every story published.