Vatican City — After electronic highway signs and cell phone text messages failed to stanch the flow of pilgrims, police stepped in Wednesday to turn back mourners hoping to join the 24-hour line to view the body of Pope John Paul II, on a day that brought almost 1 million people to the Vatican.
The crowd control problems developed hours after the College of Cardinals set April 18 as the start of its conclave in the Sistine Chapel to choose a successor to John Paul, a papal election with new rules and new technological challenges.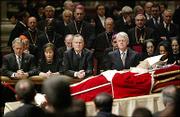 Using a special entrance for VIPs, President Bush viewed the body with his wife, Laura, along with his father, former President Clinton and Secretary of State Condoleezza Rice, shortly after the U.S. delegation reached Rome. They knelt in a pew in front of the remains, bowing their heads in prayer, joining a million pilgrims who had filed solemnly through St. Peter's Basilica.
Seeking to clear the basilica by tonight so the Vatican could prepare for John Paul's funeral the following day, police announced they were closing the line at 10 p.m. Text messages were sent over Italian cellular phone lines. Those at the back would wait 24 hours before entering the basilica.
Vatican spokesman Joaquin Navarro-Valls said the cardinals would celebrate a morning Mass on April 18, then be sequestered in the Sistine Chapel in the early afternoon for their first ballot.
Italy was calling in extra police to the capital and planned to seal off much of the Eternal City on Friday to protect a VIP contingent that will also include French President Jacques Chirac, U.N. Secretary-General Kofi Annan and the presidents of Syria and Iran, among other heads of state.
Copyright 2018 The Associated Press. All rights reserved. This material may not be published, broadcast, rewritten or redistributed. We strive to uphold our values for every story published.