Arvid Grover, 82, would break into song whenever he felt the urge.
"It was a normal deal for him," Alvamar Country Club's head golf professional Randy Towner said. "He would find out it was someone's birthday, and he would sing 'Happy Birthday.' He was just an awesome guy."
Grover died Monday at Lawrence Memorial Hospital.
Many knew Grover for his impromptu singing concerts. The World War II veteran also sang the national anthem in 2003 at Allen Fieldhouse before a Kansas University basketball game.
Grover had to audition before a panel of judges to get the KU singing gig.
"He sounded like an 80-year-old guy, but he had a good tone and his enthusiasm was contagious," KU Band Director Thomas Stidham said. "We decided to give him a shot and let him sing at a game. I probably got more positive comments about him singing the anthem than I had on any other person in a long time."
Singing at the KU game was considered an opportunity of a lifetime for Grover. It also was a sort of coming-out party for him as an event singer, Stidham said.
Following the opening for the KU basketball game, Grover also sang the national anthem at the beginning of a Kansas City Royals baseball game and at several civic groups.
"He was so excited to sing the national anthem at the KU basketball game and the Royals game," Towner said.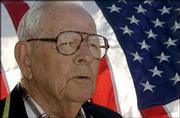 Towner hired Grover to work at the Alvamar Golf Course as a marshal to monitor play on the golf course.
"He was young at heart and just fun to be around," Towner said.
Grover moved to Lawrence from Milwaukee in 1999. But he grew up in Lawrence and attended Oread High School on the KU campus from 1937 to 1941. Grover served in the U.S. Navy and had tours of duty in Africa and Sicily.
Grover spent most of his adult years in Milwaukee, where he worked in the composition department of the Milwaukee Journal.
In 1946, he married Lorraine Ann Gleason. She died in 1998. The couple had two children -- Carole Jo Grover, of Trinity, Texas, and Kenneth Ray Grover, of Orlando, Fla.
A memorial gathering will be at 2 p.m. Thursday at the American Legion Building, 3408 W. Sixth St.
Copyright 2018 The Lawrence Journal-World. All rights reserved. This material may not be published, broadcast, rewritten or redistributed. We strive to uphold our values for every story published.