Washington — Starting in 2008, Americans traveling from Canada, Mexico, Bermuda, the Caribbean and Panama will be required to show their passports to re-enter the United States under regulations proposed Tuesday by the Bush administration.
The border-tightening effort, designed to keep terrorists out, also will apply to citizens from those countries who want to enter the United States.
The regulations mark a shift from a North American borders policy that allows Americans to merely declare their citizenry to enter the United States.
An estimated 60 million Americans -- about 20 percent of the national population -- have passports.
Secretary of State Condoleezza Rice said U.S. officials have been working with their international counterparts "for some time" to shore up security measures without crimping the flow of commerce across borders. The new rules were called for in intelligence legislation Congress passed last year.
The new requirements would take effect on Dec. 31, 2007, for travelers entering the United States from Mexico and Canada by land, and on Dec. 31, 2006, by air or sea.
The deadline is a year earlier -- Dec. 31, 2005 -- for travel from Bermuda, the Caribbean and Panama.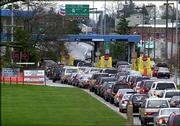 The proposed rules are scheduled to be finalized this fall. Until then, the government will solicit comments from the public.
Currently, Americans generally need to show a driver's license or other government-issued photo identification to cross the border from Canada.
Copyright 2018 The Associated Press. All rights reserved. This material may not be published, broadcast, rewritten or redistributed. We strive to uphold our values for every story published.