Vatican City — Tens of thousands of mourners, some weeping, some praying, streamed through St. Peter's Basilica on Monday to view the body of Pope John Paul II, lying in state by the altar of the huge Renaissance house of worship. Out of sight, Roman Catholic leaders began meetings that will eventually lead to the selection of his successor.
Cardinals in red robes and monks bearing candles had accompanied the body down marble halls, beneath the frescoed ceilings of the Apostolic Palace where the pope lived for 26 years before emerging into St. Peter's Square and passing through the throngs there. Swiss Guards in orange and blue uniforms flanked the steps of the basilica. A chorus sang Latin chants.
The pope's body, set on a velvet pallet, appeared to float above the crowd. It traced a path through the square that John Paul had traversed in his glass-sided popemobile to greet pilgrims.
Sixty-five cardinals from all parts of the world met Monday morning and set 10 a.m. Friday as the time and date for John Paul's funeral. The White House announced Monday that President Bush and the first lady would lead the American delegation at the funeral.
Vatican officials also disclosed that the pontiff would be buried in a crypt beneath St. Peter's.
Poles had expressed hope that John Paul would be buried in Krakow, where he was archbishop before his 1978 election as pope. But Lech Walesa, the Solidarity trade union leader who helped bring down communist rule in Poland with John Paul's support, said the decision was correct. "A great pope should rest in the Vatican," he told reporters in Poland.
Following rules laid out over centuries and last altered in 1996 by John Paul, 117 voting cardinals will take part in the election of a new pope, in a conclave to begin 15 to 20 days following John Paul's death on Saturday. They will deliberate in daily meetings inside Vatican walls before then, and they have been sworn to secrecy about their conversations.
Still, a list of qualities that the new pope would possess began to emerge Monday from cardinals, though no one was mentioning names. "Everybody's speculating, but you'd need two crystal balls to understand their thinking," said Monsignor Charles Burns, a retired head of the Vatican's Secret Archives.
No radical changes expected
John Paul ruled the church for 26 years and chose all but three of the voting cardinals. The pope they select is unlikely, therefore, to diverge from his opposition to birth control, abortion and the ordination of women, according to prelates and outside Vatican watchers. "I don't think anyone who really knows the church believes that any radical change is likely. I believe that the general line and the tradition will continue, but time will tell," Cardinal George Pell of Australia told a radio reporter before departing for Rome.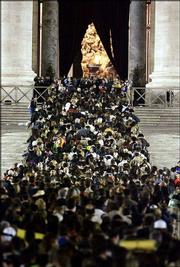 But on a host of other issues facing the church, the cardinals bring a diversity of opinions and experience to guide them.
John Paul's engaging, vigorous style has raised expectations that the next pope ought to be another telegenic world traveler. A return to the bookish, reclusive manner of many past popes is unlikely, many people contend. "No more mystery popes," Burns said.
Succession by geography
John Paul broke a 455-year string of Italian popes, and the possibility of a Third World candidate attentive to social ills and the poor has become a talking point. Cardinals from Latin America talked up the idea of one of their own being chosen or at least someone who would recognize the region's importance. "The majority of Catholics in the world are in Latin America, so whoever is elected should focus on this continent," Cardinal Nicolas de Jesus Lopez Rodriguez of the Dominican Republic told reporters.
A call for an African pope came from Anglican Archbishop Desmond Tutu, the 1984 Nobel Peace Prize recipient. "I hope the cardinals will follow the first non-Italian pope by electing the first African pope," he said.
Some Catholic leaders pressed for a pope who would loosen the Vatican's central control and share more authority with bishops. Italian Cardinal Achille Silvestrini, formerly head of the Vatican's Congregation for Eastern Churches, said a new pope ought to urge "collegiality," the Vatican's term for greater freedom of action for bishops. At 82, Silvestrini is too old to vote.
The collegiality issue "is felt everywhere," Silvestrini said. "We must encourage dialogue, collegiality in confronting problems." John Paul talked a lot about it but the question was "always put off for the future," he said.
Multilingual demand
Over the past few months, experts on the Catholic church have speculated that the next pope will have strong linguistic skills. The Polish pope wowed audiences in St. Peter's Square and the world over with his command of at least eight languages. On his more than 100 trips abroad, he frequently gave homilies in the local tongue.
Italian is one language the new pope will likely have mastered; it is spoken in the Vatican halls. English, as the global lingua franca, is another. French is spoken in a key area of Catholic evangelization, Africa. Spanish is the home language to the most populous group of Roman Catholics, in Spain and Latin America.
The pope is also the bishop of Rome, George said, "and you can't have a bishop of Rome who doesn't speak Italian. He couldn't preach to his own people."
A matter of age
The preferred age of a new pope has been discussed discreetly in part because of predictions that many cardinals will want the next papacy to be shorter than John Paul's. John Paul was 58 years old when he was elected in 1978. His relative youth was widely regarded as a plus, because his predecessor, John Paul I, died after only a month in office at age 65.
Traditionally, voting cardinals have tried to alternate long papacies with shorter ones, though short reigns are not necessarily uneventful. Pope John XXIII, who some argue was the most influential and revolutionary pope of the 20th century, died within five years of his election. In that time, he convened the Second Vatican Council, a gathering that introduced new relations with other faiths, set a course for a renewed commitment to the poor and opened the Catholic Church to greater grass-roots participation.
"Quality sometimes does not depend on quantity of years," said the Rev. John Navone, a professor at the Vatican's Gregorian University in Rome.
Copyright 2018 The Lawrence Journal-World. All rights reserved. This material may not be published, broadcast, rewritten or redistributed. We strive to uphold our values for every story published.