Mike Capra, a frequent critic of Lawrence City Commission candidate David Schauner, attempted to print a political mailer containing the same language as one voters received Thursday that attempted to link the incumbent to domestic abuse.
Dee Bisel, owner of Lawrence-based Minuteman Press, said Capra came into her store on March 18 and asked her to print 5,000 copies of index-sized cards.
When Bisel asked to see the content, she said, Capra showed her the same excerpt of a Google search that appeared on the controversial cards received primarily by registered women voters on Thursday.
The excerpt on that card was edited in a way that suggested Schauner was involved in a domestic abuse incident with his first wife. In actuality, the Google search produced nothing more than a summary of a case that Schauner was involved with as an attorney.
Bisel said she refused to print the card after seeing its content.
"I asked him if he (Schauner) beat his wife, and he (Capra) said 'I don't know,'" Bisel said. "I told him I wasn't going to print this."
When reached by phone, Capra said he never paid for the cards or had them printed and then later denied ever going to Minuteman Press, 501 Gateway Drive. He declined any further comment.
Bisel identified a photo of Capra as the man who entered her business and showed her the Google excerpt.
A second Lawrence printer, Terry Jacobsen of Printing Solutions, 1388 North 1293 Road, also confirmed that Capra entered his business in mid-March and sought to have approximately 5,000 index-sized postcards printed. He also identified a photo of Capra.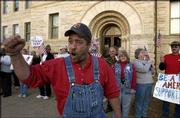 Jacobsen said he did not ask to see the content of the card. Jacobsen, citing company policy, declined to comment on whether his company printed the mailer. He did confirm, though, that his company had nothing to do with mailing the card, which is under investigation by the U.S. Postal Service.
Jacobsen said Capra told him he was intending to mail the postcards himself. Capra did not return phone calls seeking comments about Jacobsen's story.
Judy Raney, Lawrence postmaster, said last week that she had no record of the postcards being appropriately registered with the Lawrence Post Office. Because of the type of stamp that was used on the mailing, Raney said postal regulations required that a report be filed with the post office's bulk mail department.
Raney said Monday that there were no new details to report on the investigation.
Neither printer has any connection to the Schauner campaign. Schauner has called any suggestion that he was involved in domestic abuse a "bald-faced" lie and a political cheap shot.
Capra, an area plumber, is best known outside his trade as a frequent poster on Lawrence-based Web boards. He typically posts under the name "vitos plumbing" and has been critical of Smart Growth politics and candidates who support new growth policies for the city.
Capra has admitted to the Journal-World being involved in sending a mailer that voters received on Friday, the day after the more controversial postcard, which criticized Schauner for doing too little to help Lawrence youths.
The two postcards have drawn rebukes from all five candidates seeking three at-large seats on the City Commission. On Sunday a Lawrence group called Citizens for Campaign Integrity had a rally in front of City Hall to denounce the mailings.
Voters will go to the polls today to decide the outcome of the City Commission race.
Copyright 2018 The Lawrence Journal-World. All rights reserved. This material may not be published, broadcast, rewritten or redistributed. We strive to uphold our values for every story published.