Nelson Krueger wasn't sure what to expect when Pope John Paul II stepped on his plane in 1979.
"I thought he might be an aristocrat, standoffish, as head man of a big organization like that," said Krueger, a Lawrence resident who spent 31 years as a TWA pilot. "It was just the opposite: He was like a Midwesterner from Kansas City or Lawrence."
Krueger was part of the three-pilot crew that ferried the pontiff around America during his first visit here in October 1979, one year into his papacy. The plane was temporarily rechristened Shepherd One as the pope hopscotched across the country.
"We picked him up in Boston, at Logan International Airport -- he'd come in from Ireland," Krueger said. "We flew him for six days from Boston to New York to Philadelphia, on to Des Moines, Chicago and Washington, D.C."
When John Paul first boarded the plane, Krueger said, "he just reached out and gave me a big hug. I'll never forget that. He had beautiful blue eyes, a big guy, a nice firm handshake -- a real good grip."
John Paul had boarded the plane in Boston after walking through the rain. Krueger and the crew put the pope's soaked cape underneath a cockpit air vent to dry it out by the time the plane reached New York -- a moment captured in a photo Krueger had taken of himself with the cape.
Krueger, a Methodist, had his family Bible signed by John Paul. The pontiff also gave Krueger two other mementos: a silver token and an obelisk.
The pope didn't travel lightly.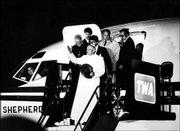 "We had several cardinals, a couple of bishops, an archbishop, about 24 church officials and 90 members of the international press corps," Krueger said.
There were two other planes -- Shepherd Two and Shepherd Three -- that accompanied the pontiff across America, filled with Knights of Columbus members and other papal associates.
The ritual, Krueger said, was for the pope's plane to take off first. It would land last, however, so that passengers on the other two planes could disembark and prepare to welcome John Paul to the latest city on the tour.
Krueger said air traffic controllers had a hard time understanding why he would let other planes land first. In keeping with the theme of the trip, Krueger had a biblical answer.
"Today, the last shall be first," he told controllers, "and the first shall be last."
Copyright 2017 The Lawrence Journal-World. All rights reserved. This material may not be published, broadcast, rewritten or redistributed. We strive to uphold our values for every story published.